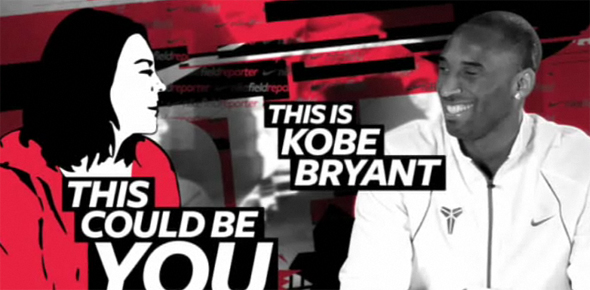 Nike is looking for their next Field Reporter, a young woman who will get the opportunity to travel across the country and interview some of the biggest athletes in the game. Check out Nike's description of the contest below:
Who Were Lookin For
One lucky lady between 18-24 whos sassy, smart and sports savvy. If you're in the know and on the go, its time to take your shot at being the first-ever Nike Field Reporter.

Whats a Field Reporter?
If you think you have what it takes to volley one-liners with Maria Sharapova, kick it with Mia Hamm, and Q&A over cappuccinos with Serena Williams, this is your dream job.

As the Nike Field Reporter, you'll jetset around the country on Nike's dime talking to athletes, artists and culture makers. You'll report back in the form of photos, videos and blog entries.

You have to be ready for anything and anyone. As this is being written, the current Nike Field Reporter is spending a few days just hanging out with Kobe Bryant.

Think you could keep up? Remember this isn't a job for the camera shy. Or the easily intimidated. You'll need to show us you can talk a good game, as well as play one. Make us laugh. Impress us with your quick wit and storytelling. Prove to us you are Nike's next star in a 2-minute audition video and sample blog post.
Check out the Nike site for more information and to apply.
You can visit the current Field Reporter's blog here. Check out these videos of the first Nike Field Reporter, and the promotion video for the contest:


You might also like