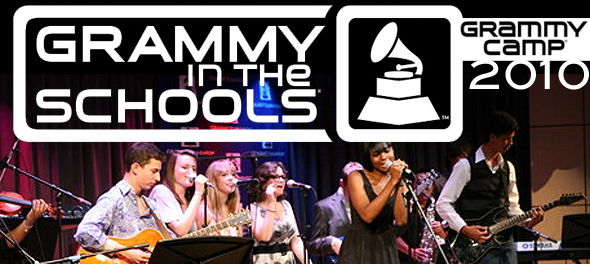 Here's a great opportunity for high school students with a passion for music. GRAMMY Camp, sponsored by the Grammy Foundation, is now accepting applications for summer 2010. The program is a ten-day residential camp that focuses on the music industry, held at the University of Southern California (USC) Thornton School of Music in Los Angeles.
GRAMMY Camp offers students the opportunity to work with GRAMMY-winning and -nominated professionals and industry specialists affiliated with The Recording Academy over a number of music industry career tracks. Over the past three years, approximately 70 percent of campers who applied for financial aid received assistance to this immersive, interactive and highly collaborative residential summer music camp. GRAMMY Camp is sponsored in part by Converse and Epiphone. At GRAMMY Camp, you'll work, learn, and play with top music professionals from across the industry to kick your music career into high gear:
Musicians – Producers – Engineers – Music Journalists
Singer/Songwriters – Concert Promoters
The final application deadline is March 31, 2010, and for the first time applicants can submit their video essay and audition videos online at www.mystudio.net. Applicants in Los Angeles and Scottsdale, Ariz., can also record their application videos free of charge at MyStudio locations in those cities.
To apply CLICK HERE or visit http://www.grammyintheschools.com for more information, and for photos and blogs from previous years. Financial assistance is available; for questions call (800) 423-2017 ext. 8682 or email grammycamp@grammy.com.
You might also like