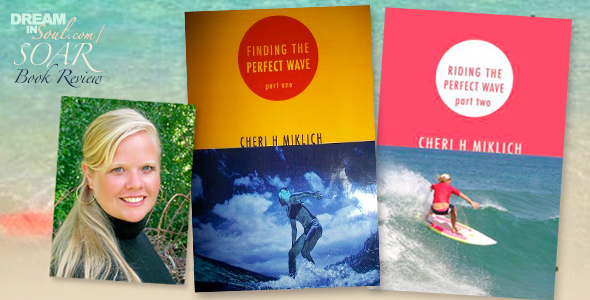 Book Review by Julene Fleurmond, Editor of DreamerENT – I recommend this book for teens because of the themes that affect young adults
Finding the Perfect Wave is a great book that dives into the world of Alli Whitton, a 17-year-old avid surfer who seems to have it all together. When tragedy and change crashes into her world she has to learn to readjust, and to boldly face the rough trials in her path.
I really enjoyed the story and the way the the author created believable characters and situations that young people and adults can relate too. She also wasn't afraid to delve into serious topics like losing a loved one and navigating the waters of rocky friendships, broken relationships and the feelings that come along with betrayal.
I found myself feeling for the main character Alli when she faced obstacles and especially when she felt out of place at times when starting at a new school. Of course a there was some romance weaved within, which I as a girl enjoyed, especially since the relationships didn't go overboard like in other books and movies for young adults these days. The book is an encouragement to stand strong and have faith even when it seems that life is pounding on you from every side.
By the end I found myself wanting to find out more about Alli and her story, which thankfully I and other readers will be able to because Cheri has released a new sequel called Riding the Perfect Wave. You can order both books from her website at www.cherihmiklich.com.
More About Cheri Miklich
Finding the Perfect Wave, part one, is Cheri's first novel and the first in the Perfect Wave series. She grew up in Southern California where she loved spending as much free time as she could at the beach. She and her husband Mark, live in Arizona with their four children. She loves to travel with her family, especially to beautiful beaches.

She has been asked on many occasions, "How does a stay at home Mom come to write a book?" Her answer… Continue Reading
Finding the Perfect Wave Book Description: From the Publisher

Alli…there's been an accident.' Her voice grew silent. 'What?' I began to hear sobbing coming from the other end of the line. A sick feeling overtook my whole body. The fear of what I was about to hear became a stronger reality with each of Sara's sobs. 'There was a really bad car accident, and Alli…' She paused and began to cry louder. 'H-He's…gone. He's dead.'

Seventeen-year-old Alli Whitton's life just can't get any better. She's one of the best surfers in Huntington Beach, spending every day side by side with her boyfriend, Todd, and just days away from entering the halls of her senior year in high school. Then her dad is transferred miles away from her beloved ocean to the middle of the sweltering Arizona desert, and Alli's perfect life is threatened. It takes an uphill turn, however, when she meets Jake, the school's handsome soccer star, whose sandy blond hair and sharp green eyes remind her how to smile once again. All she needs to do is make it ten long months; then she's free to return to California.

But when an unthinkable tragedy occurs, Alli is forced into mourning the loss of a dear loved one, leaving her suffering through the grieving process in a new school with none of her best friends to comfort her. Cheri Miklich's Finding the Perfect Wave is a romantic coming-of-age drama where readers will learn, along with Alli, to smile and laugh even amidst life's darkest hours. A new romance blooms, hope and faith fight to prevail, and a strong realization of passion for her dreams surfaces as she discovers who she is meant to be. Join Alli as she enters the waters of life and seeks to find the perfect wave!

To learn more about Cheri and her books, order, and read sample chapters visit: www.cherihmiklich.com.

Note: I received a free copy of "Finding the Perfect Wave" for this review and was not required to give a positive review.


You might also like