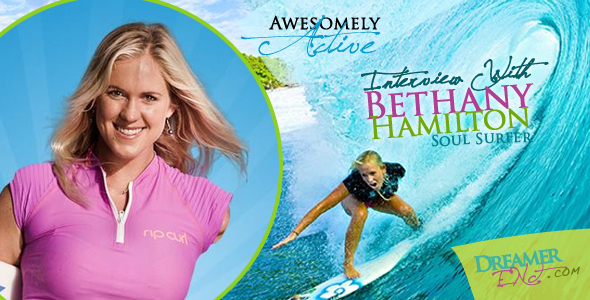 Her strength, resilience and vibrant energy have captured the attention of the world – and she's not stopping anytime soon. After she lost her arm in a shark attack Soul Surfer Bethany Hamilton was out catching waves again not long after the accident. Though she faced obstacles she didn't let them keep her from following her dream of being a pro surfer. Ten years later she's still in action and wants to inspire other girls to stay fit and active too…
In this interview Bethany talks about what keeps her encouraged, why staying fit is important and how other girls can win a prize by submitting a picture of themselves being "Awesomely Active." She also tells us about her fiancé Adam and why he's so special to her. Watch the video below to hear her share her story, see pictures of the beautiful couple and to watch Bethany in action – we hope you're inspired to also get awesomely active and follow your dreams!
Tune Into the Interview with Bethany Hamilton Below!


Interview by Valder Beebe of the Valder Beebe Show, Media Partner of DreamerENT
Are You Awesomely Active? Submit Your Picture and You Might Win a Prize!

"Between surfing, traveling and now planning a wedding, I'm excited for an awesomely active summer and want girls to join me in showing off their active moments too…" – Bethany Hamilton

Bethany is the inspiration for the Tampax Awesomely Active campaign. Her courage and strength inspires girls all over the world to get out there and pursue their dreams — and to never let anything stop them.

Girls like you can enter the Awesomely Active Girls Challenge by submitting a photo of them taking on their favorite activity, anything from hiking to bike riding, dance to swimming, with 140 character caption on Facebook.com/Tampax.

Each week, a winner will be selected and highlighted as the "Awesomely Active Girl of the Week," not only receiving the spotlight but also $500, a year's supply of Tampax Pearl Active and

The last day to submit your picture is July 21st, so get going and get snapping!

Visit the Tampax Facebook page now to find out more and to submit your picture! Watch Bethany share more about the contest and ideas to be active below!
You might also like