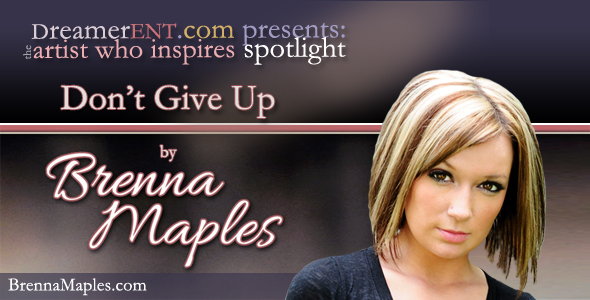 "You never know until you try, you've got to pick yourself up and don't give up…" – Brenna Maples
We've chosen Brenna Maples as our Artist Who Inspires Spotlight & for this motivational Music Pick because she's a rising country music artist who creates songs from the heart and with a deeper meaning.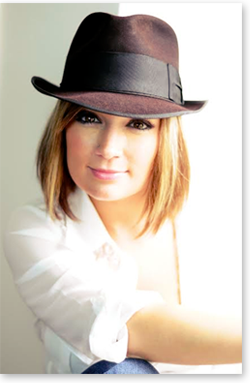 Here's what she had to say about her moving, encouraging song "Don't Give Up" which has an uplifting message for anyone following their dreams or going through a tough time in life. The song weaves together stories inspired by her family and and we love the soothing sound of her voice:
This is a song for everyone who has gone through or is going through a hard time in life. No matter what, don't give up.

"Don't Give Up" is a song I wrote about my grandpa's life events. He is still living and survived all of that! I also wrote it to encourage my sister to not give up through her battle of cancer. She has been cancer free for over a year, but she is still looking for a donor for a kidney transplant. I told her to not give up and to stay strong! This song is also for everyone that is going through a hard time. I want the song to encourage them to stay strong through whatever life brings and to not give up!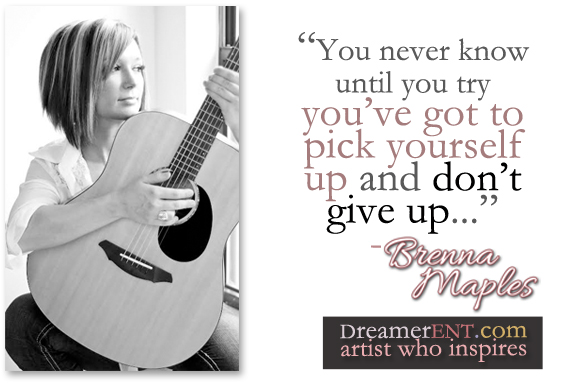 Brenna Maples is a country singer that performed at Dollywood for the past three years and at the Smoky Mountain Opry in Tennessee. She has performed with Dolly Parton as well as singing back ground vocals for her at media events. Her first CD has been finished and entitled Brenna Maples. Brenna has recently moved to Nashville and become a songwriter for ASCAP. She is looking forward to what the future brings in her music career. You can keep up with her on Facebook, Twitter, Youtube, and iTunes.
Connect with Brenna Maples At Her Website and on Social Media:
You might also like