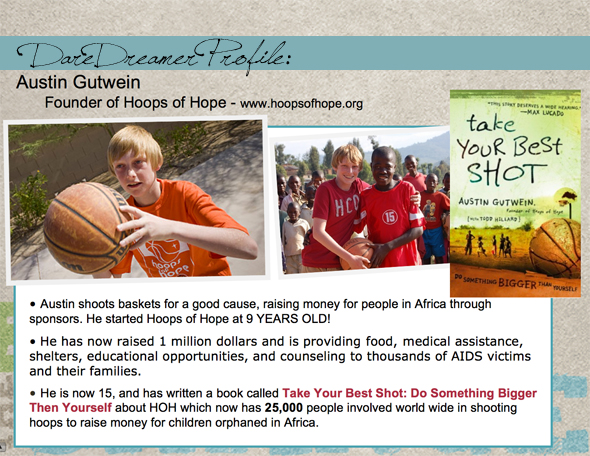 "People think that kids can't make a difference and that they should wait until they are older but that's totally wrong…" – Austin Gutwein
Austin Gutwein show that you're never too young to make a difference and serve others. Check out his story below of how he is helping those affected by AIDS in Africa, one hoop at a time through his organization Hoops of Hope:
Watch the story of how Hoops of Hope began below:
More About Hoops of Hope

Hoops of Hope is the biggest basketball shoot-a-thon in the world, much like a walk-a-thon, but more fun! You can join thousands of participants and teams from around the world that shoot free throws for children in need. Every dollar raised will go directly to the project you select to help these children. Every free throw will literally help keep children from becoming orphans.
You might also like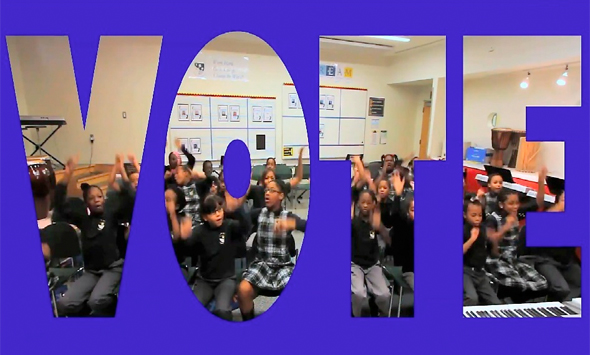 This video will make you smile and motivate you to take action (even if just dancing in your seat:). Democracy Prep's amazing fourth grade citizen-scholars want you to VOTE this November 6th! The Harlem Prep Hawks sing their civic message loud and proud to the tune of Carly Rae Jepsen's "Call Me Maybe." We hope they inspire YOU to "#VoteForSomebody!" If you're not of voting age yet encourage the adults around you to exercise their civic duty.
Democracy Prep is a "Straight A" network, with 2,000 students across seven campuses in Harlem, NY and Camden, NJ, proving what is possible in urban education. We are preparing our responsible citizen-scholars to succeed in the college of their choice and a life of active citizenship. Their motto is "Work Hard. Go To College. Change the World!"
Thanks for the inspiration students of Democracy Prep!
You might also like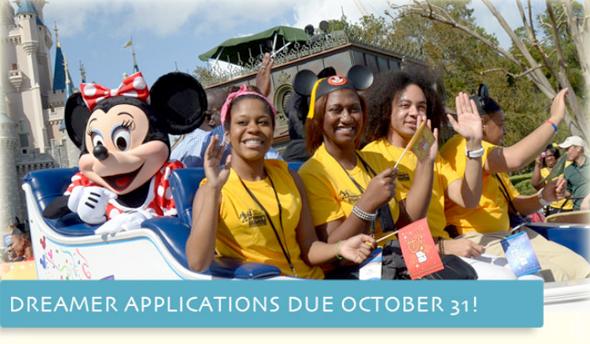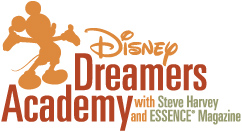 What do all Dreamers have in common? They're creative, eager to learn, and dedicated to pursuing their dreams with passion. Does this sound like someone you know? Steve Harvey and Essence Magazine are looking for Dreamers for next year's Disney's Dreamers Academy where you can get the tools to help make their dreams come true.
This is an amazing opportunity where you can learn from a variety of creative professionals and mentors who will motivate you to take the steps that will lead you to success in the career that you aspire to pursue.
Last year's Dreamers also got to interact with various celebrity guests throughout the four-day experience including Yolanda Adams, Cupid, Terrence J, Wendy Raquel Robinson, Jordin Sparks, Lance Gross and of course Steve Harvey.
The Details: Potential Dreamers must be between the ages of 13–19, live in the United States, and be enrolled in high school grades 9–12 when entering. For a complete list of rules and the application click here.
Watch the videos below for fun clips from the Disney's Dreamers Academy 2012
You might also like

Are you a young man who is:
Living in the City of Chicago
Between the ages of 13-18
Enrolled in grades 9-12 at the time of submission
Being raised in a single female home.
Then Steve Harvey is looking for YOU!
The Steve Harvey Mentoring Weekend Chicago will take place November 16-18, 2012, and will include a series of seminars on the principles of manhood, leadership, and community empowerment. You won't want to miss this opportunity to learn from Steve Harvey himself and some of his friends.
APPLICATION DEADLINE : October 12, 2012 | 5pm
Visit http://steveharveymentoring.com/chicago to register and to find more information.
You might also like
From March 8–11, the 2012 Disney's Dreamers Academy will be packed with wonderful experiences crafted to motivate, inspire and prepare each young Dreamer to reach even further to make their dreams come true. Beginning with the celebratory welcome from Steve Harvey, Essence Magazine, Disney Executives and Disney Cast Members—and moving through a weekend filled with motivational speakers and immersive career workshops ranging from acting to zoology—the Dreamers are in for an experience that is geared to open their minds to the many possibilities their dreams can lead them to.
Below In this video, Celebrity Chef and DDA Speaker Chef Jeff responds to questions asked by the DDA Facebook community…


You might also like