In this video from the Disney Channel's "Make Your Mark" 17-year-old Allyson talks about how she combined her love of fashion with her love of service with the Threads For Teens boutique that gives clothes to girls in need.
For more about Allyson's boutique at www.threadsforteens.org.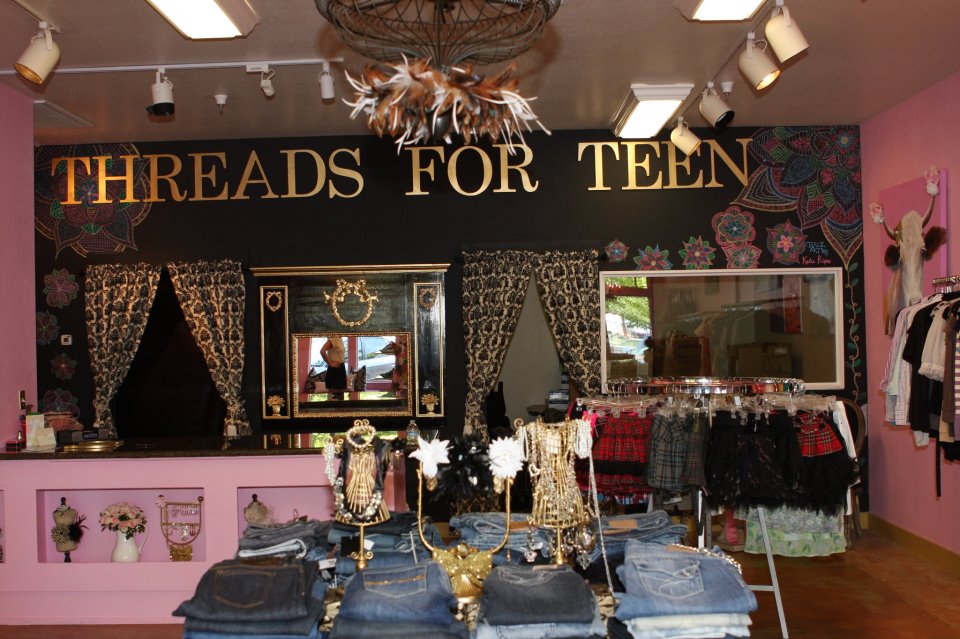 You might also like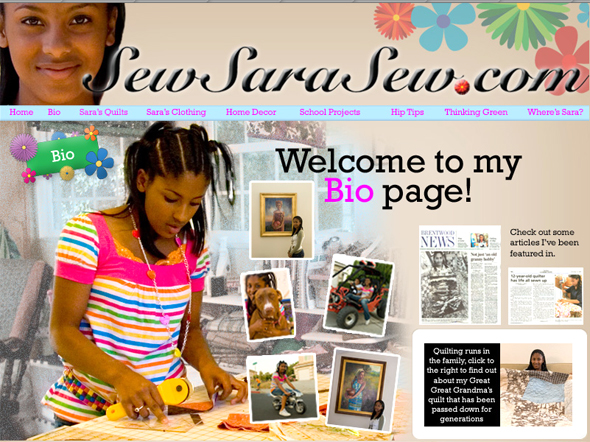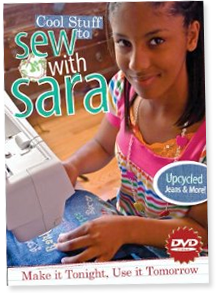 On SewSaraSew.com Sara, a teen seamstress, teaches other teens how to sew their own creations, from dresses to quilts. Her projects and site are so intricate and impressive, with cute details and concepts.
Sara's been able to do various apperances and speaking engagements to inspire other teens and one of her art quilts "By His Blood" was featured at the Rev. Jesse Jackson 68th Birthday Gala. Wow, I'm really inspired by this young entrepreneur! Visit SewSaraSew.com where you can order her instruction DVDs or her book to learn how to make your own sewn fashions – you might even want to start your own business by selling them to friends.
"SewSaraSew.com is the place for kids and teens to get fun ideas, share your work, and learn how to make something without spending your whole allowance! There is no limit to what we can make, and there are no such things as mistakes! A wrong turn on a project could open up a whole new opportunity! I am all about being green, using recycled materials in my projects, and not letting scraps go to waste. If you think GREEN, you can make GREEN! The best part is that you can do this too! Let's get behind our machines and make something FUN!"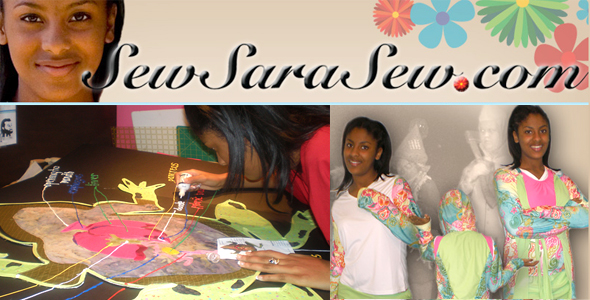 Above: Sara's Fabric Frog Dissection Project and Colorful Hooded Ensemble

Watch the videos below where Sara talks about how she got started sewing and an episode of Biz Kids where she sews a dress for a friend:
Below Sara introduces her book and shows clips of a fashion show where some of her students show off the projects they made:
You might also like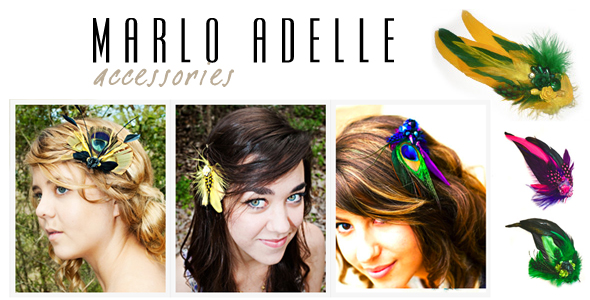 Still looking creative gift ideas, and want to support young entrepreneurs while shopping? Check out Marlo Adelle Hair Accessories a handmade and fashionable feathered hairclip line created by a teen business owner: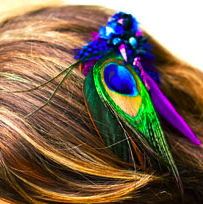 The Story Behind Marlo Adelle Hair Accessories

Marlo started making hair accessories to go with her outfits at age 14. Her friends requested personalized hair clips for themselves. Her mother helped her sew them and eventually they introduced them to local businesses in downtown Austin.

As demand increased, Marlo turned to Craig's List for potential hairclip helpers. The helpers came to the family home, were trained and Marlo provided them patterns to trace. By the third year, Marlo was selling in 12 boutiques in Austin and in California, as well as online. In 2008 Whole Foods Market ordered her new line of romanticized feather hairclips with a vintage flare.



Giving Back

As Marlo continued to grow her business, she was involved in giving back to her community through volunteer efforts in PALS and teaching art at Laguna Gloria Art School. She traveled to the Dominican Republic to teach art to impoverished children. With three employees, Marlo plans to continue her business while in college and to expand the online business.
You can find out more about the business and how to order at www.marloadelle.com
You might also like
Young Entrepreneur Gift Guide
For the next few weeks on Dreamer ENT we'll be featuring products by young entrepreneurs that would make great gift ideas. Check out the first installment below: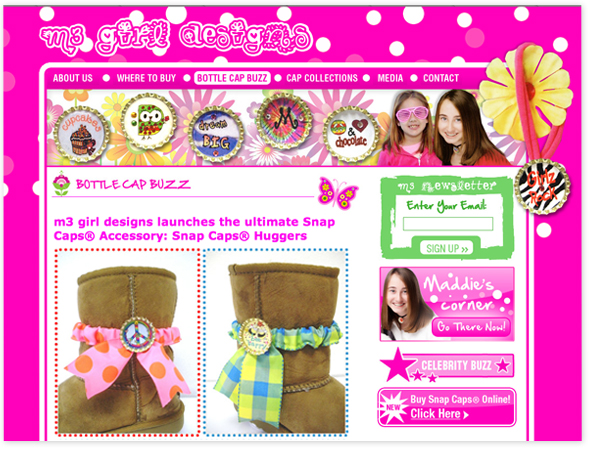 M3 Girl Designs – Bottle Cap Necklaces & Accessories
Pop on these creative bottle cap jewelry pieces and decorations created by a 13-year-old dreamer & entrepreneur…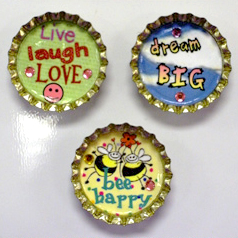 Looking for a cute and creative gift idea? You and your friends might like the colorful magnetic bottle-cap jewelry from M3 Girl Designs. These colorful creations were created by a young entrepreneur as a personal fashion statement and are now extremely popular:
When 10 year old Maddie Bradshaw had a desire to decorate her locker with something creative, Snap Caps® bottle cap necklaces were born and now are a "must have" accessory for tween girls.

With $300 of her own money and a unique idea, Maddie's SNAP CAPS® have turned M3 Girl Designs into a national brand, selling 50,000 necklaces per month in less than two year's time.

Education is important to Maddie, and in addition to her SNAP CAPS® designs, she is also currently working on her first book. It is an inspirational compilation of stories, inventive business ideas and marketing tools for kids with entrepreneurial spirit and big imagination.
Visit www.m3girldesigns.com to find out how to order and to learn more about the story and fun behind M3 Girl Designs!
You might also like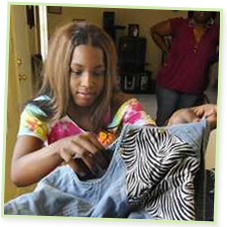 Check out this video from CNN where a South Florida senior named D'Anna talks about how she started her own creative clothing customization business, D'Anna Dolly's House of Fashion.
The young fashionista reworks jeans, jackets and other items by tie-dying, sewing material or adding jewels & studs. You can read more about D'Anna and another teens in this article from the Miami Herald that also talks about how you can also start your own business this summer instead of wading through the current unpredictable job market.
Photo Source: The Miami Herald
You might also like