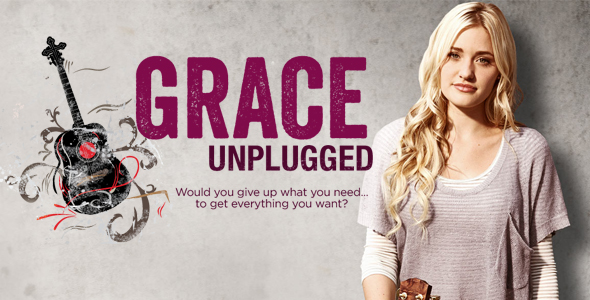 GRACE UNPLUGGED is an inspirational movie starring Amanda "AJ" Michalka as 18-year-old singer/songwriter, Grace Rose Trey. Beautiful, highly talented and restless, Grace is undiscovered outside church, where she performs each Sunday with her gifted father, Johnny. A former rock star, Johnny Trey charted a Billboard number one single 20 years ago. When the hits stopped coming, he crash-landed hard before finding Christ and starting a new life for his family, far from the Hollywood Hills.
One day without warning, Grace leaves for Los Angeles. She has landed a record deal with the help of Johnny's ruthless former manager and producer, "Mossy" Mostin. Mossy sees in Grace a potential pop superstar. Cutting off contact with her parents, Grace seems prepared to walk away from her Christian faith and music to achieve her long-suppressed fantasy of Hollywood superstardom. Will the experience cause her to reject her faith, or rediscover it? IN THEATERS OCTOBER 4, 2013
Check out the trailer for the film above, also starring Grammy nominated singer/songwriter Jamie Grace as Grace's friend Rachel. You can find out more about the movie at http://www.graceunplugged.com.
You might also like