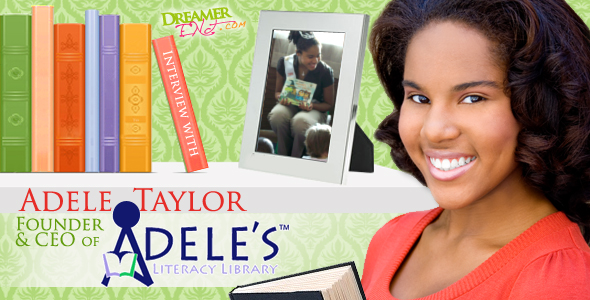 There's nothing like a good book; you can immerse yourself in different worlds, share someone else's experiences and ignite your own imagination to what's possible in the world.
Adele Ann Taylor has such a passion for books and at the age of 13 decided she wanted to share her love for reading with other kids, to show them how much power it holds and how much fun it could be. This is why she founded her non-profit organization Adele's Literacy Library™ (A.L.L.) in December 2008. The goal of A.L.L. is to "instill and empower that reading is not only fundamental, it is the key ingredient to success and through reading ALL things are possible."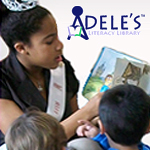 Throughout the past few years since founding A.L.L., Adele has already donated thousands of books and spoken to hundreds of kids about the power of reading. Her main goals are to donate millions of brand new books and bookmarks to schools, libraries and charitable organizations, and to "make a difference" in the lives of others through a book. She also wants to eventually offer scholarships to graduating seniors who want to pursue their educational dreams.
Adele was crowned Miss Heartland's Outstanding Teen 2009, making her an official representative for the sister group to the Miss America Organization, and she was most recently crowned Miss Bonnie Blue Outstanding Teen 2010. She is also a featured Hero on the website Kids Are Heroes that shows that young people can make a difference in the world. Watch Adele in the video below from a Kids Are Heroes event, where she speaks about her organization and how other young people can become change-makers in their communities:


Adele aims to motivate people of all ages to develop a passion for reading and show them that "regardless of where you come from, you can go anywhere in the world by reading a book." This inspiring teen spoke to Dreamer ENT about how she got started and what she's up to now – ALL for the love of reading.


Dreamer ENT: Tell us about you – how old are you and what grade are you in, and a little bit of your background?
Adele Taylor: I am a 14-year-old freshman [will be entering 10th grade in the upcoming year]. I am the oldest of three; I have a younger brother and sister. I enjoy rock climbing, roller skating, ice skating, hanging out with my friends, dancing and of course reading.



DE: When and why did you start Adele's Literacy Library? What sparked the idea and what did you do to get started?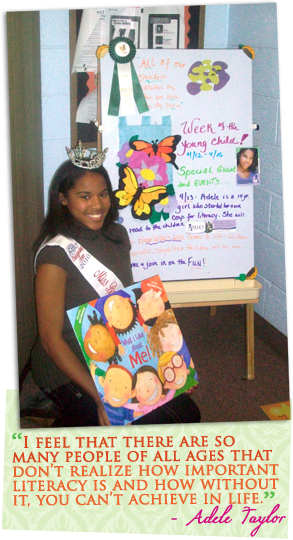 Adele: Well, I love to read and I always have wanted to make a difference in the world. I started Adele's Literacy library or A.L.L for short, because I wanted to empower people of ALL ages to read. I feel that there are so many people of all ages that don't realize how important literacy is and how without it, you can't achieve in life.
Basically, I approached my parents about what I wanted to do and they liked the idea. They hosted a fundraiser at our annual holiday party where every guest was to bring a brand new book. I collected over 200 books that night!



DE: When did you first have the passion for reading? Why do you believe it's so important for young people, or anyone?
Adele: I remember my mom reading to me ever since I was little, and I've just grown up having a strong passion for reading; it is the one thing I never get tired of doing. Reading is important for everyone. Could you imagine being in school struggling with reading and asking your parents for help only to find out they don't know how to read? Where would that person be today? I don't know too many jobs that are available where reading isn't required.



DE: About how many books have you raised so far and what type of places have you donated to?
Adele: Adele's Literacy Library has given out over thousands of brand new books and bookmarks. We've donated to The Boys and Girls Club, The Ronald McDonald House of Southern New Jersey, as well as various libraries, schools and organizations.



DE: Tell us about one of your favorite events or projects you've done through Adele's Literacy Library?
Adele: My favorite event was Adele's Literacy Library one year anniversary extravaganza. We raffled prizes from gift cards, to spa packages. It was a nice turnout and everyone was so supportive, the guests were competing for certain prizes and bought a lot of tickets. I had a lot of fun and raised money for ALL at the same time.



DE: What are some of your favorite books now, or one's you're currently reading? Do you remember your favorites as a kid?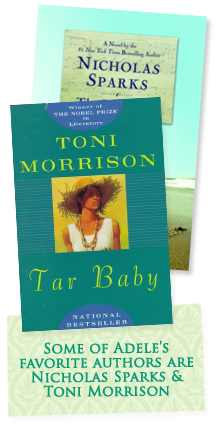 Adele: Hands down I will always love the Twilight series by Stephanie Meyer, and the Crank series by Ellen Hopkins. However, I love ALL Nicholas Sparks books, and Tar Baby by Toni Morrison. When I was kid I loved Dr. Seuss, and enjoyed The Magic Tree House series.
DE: What are some of the other things you do in your free time? What are your favorite classes in school?
Adele: When I have "free time", (which isn't often) I love to hang out with my friends because most of my friends I don't see on a regular basis; they've moved to other states. I love music and dancing and often find myself making up little dances. My favorite classes in school are surprisingly math, and history.
DE: Who are some of your inspirations and role models and why?
Adele: I have many role models, but my mom comes at the top because she has taught me that family comes first and to believe in the power of my dreams.
DE: I read you were named Miss Heartland's Outstanding Teen 2009. How was that experience; did this along with your organization allow you to mentor other girls? What would you say to a girl who felt shy or unconfident about herself?
Adele: Yes, in the year 2009 I was crowned Miss Heartland's Outstanding Teen, which is a local pageant to this sister organization, Miss America. I had a great time during my year of service where I got to promote my platform, literacy. I am currently Miss Bonnie Blue Outstanding Teen 2010 and will relinquish my title in August. I love this Miss America Organization as it has given me the opportunity to promote my cause, literacy, while wearing the crown.
I would tell anyone that was shy or unconfident about themselves that they are special and everyone was placed on this earth for a reason. Write down all the things you like about them and read it every day. The main thing is to be you and be true to yourself.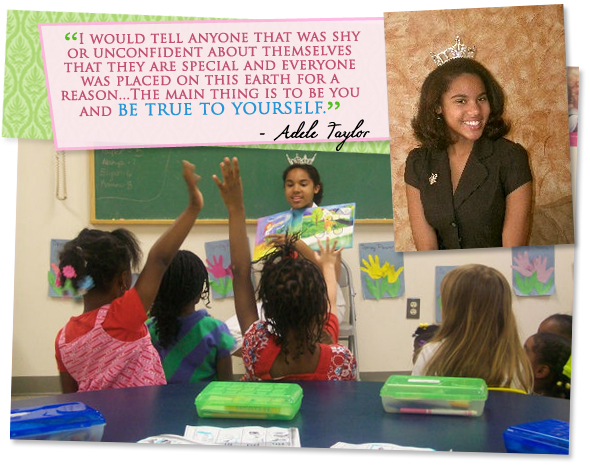 DE: How would you encourage reluctant readers or those who thought it was boring?
Adele: I would say to find something that interest you and find a book on it! The beauty with books is that you can go anywhere and be anything when reading a book!



DE: What is one thing you've learned by starting your own non-profit organization, where any challenges?
Adele: Wow! I have learned so much in such a short period of time, I think organizational skills would have to be on the top ten of my list.



DE: What are your future goals for Adele's Literacy Library, do you hope to expand the idea? Any upcoming events or special projects?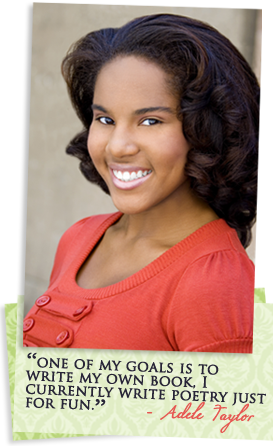 Adele: My goal is to have ALL centers globally and to eventually give out scholarships for those that are less fortunate and would like to fulfill their educational dreams.
DE: Do you think you'll ever pen your own book?
Adele: Yes, one of my goals is to write my own book, I currently write poetry just for fun. I would like to write a children's book. I have had offers from a few that would like to feature me in their book but for now writing my own is not in the immediate future.
DE: Would you encourage other young people to start their own businesses, or follow a dream like you did and why? What tips would you give?
Adele: Absolutely! I would encourage anyone to start their own business. Surround yourself with people who will not try to bring you down but would help. Also to make sure you do your homework before starting your business, haste makes waste.
DE: What's your dream career or what you hope to do when you get older?
Adele: I'm the type of person who wants to do it ALL, I don't have a dream job right now for my future; I do love what I am doing right now though.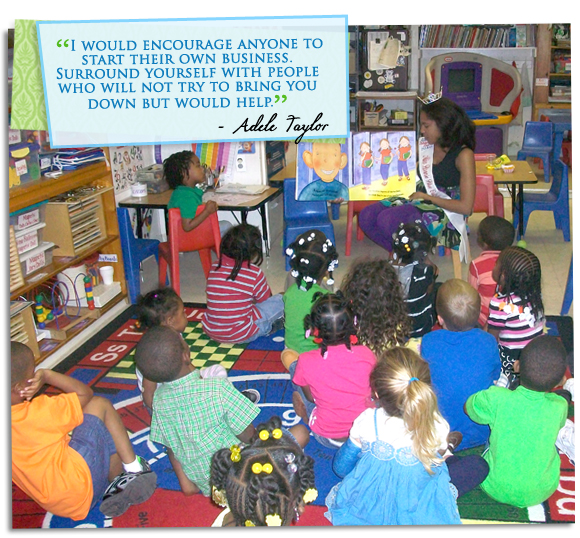 DE: Is there anything else you want to mention about your organization or how people can support what you're doing?
Adele: I would love for people to frequent ALLforBooks.amazonwebstore.com This is my web store, powered by Amazon that allows people to purchase a book have shipped anywhere and the proceeds go directly to Adele's Literacy Library where I can empower more people to read. If you don't see a book that you want, simply email us at webstoresupport@AdelesLiteracyLibrary.org and we will make every attempt to accommodate. Also, if you know of any schools, organizations that would like me to host Storytelling with Adele, please email me at READ@AdelesLiteracyLibrary.org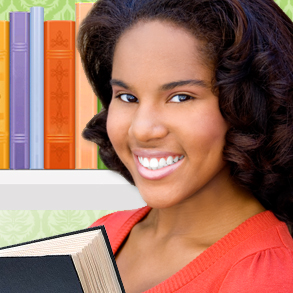 DE: Thanks so much Adele, you're really inspiring and are truly are spreading the love of reading!
Be sure to connect with Adele's Literacy Library by visiting her website at www.adelesliteracylibrary.org and the ALL Facebook page.
You might also like