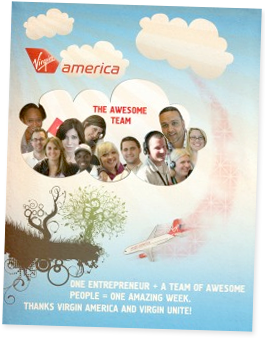 Here's a cool link from one of our partners NFTE, telling the story of a South Florida teen and young entrepreneur who got the opportunity to fly high with Virgin America airlines, even getting to meet the founder:
Sir Richard Branson, [founder of Virgin America and its other related brands] recently visited South Florida to launch his signature airline's new terminal at Fort Lauderdale International Airport. During his visit, he met with students from NFTE South Florida's E-Club, to share his secrets for success… then took them on a personal tour of an airplane!

During that tour, Richard Branson discovered that one student Darnell had never been on a plane before. [Darnell is a NFTE alumnus who had created his own business plan for "LD Designs" developing websites.] On the spot, he offered Darnell a free round-trip ticket to their headquarters in San Francisco.
His week in San Francisco was documented on the website below, with videos, tweets and a blog. Check it out to see Darnell's trip in action: http://virginandnfteproject.weebly.com
Also check out the video below showcasing his experience – it looked pretty fun:
.
You might also like