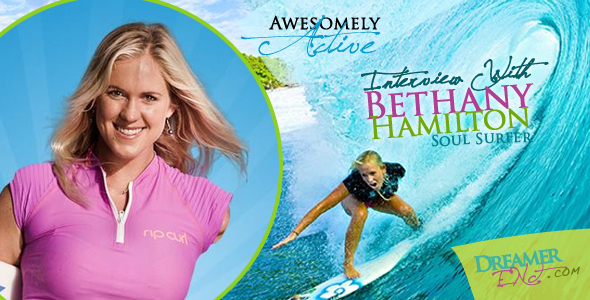 Her strength, resilience and vibrant energy have captured the attention of the world – and she's not stopping anytime soon. After she lost her arm in a shark attack Soul Surfer Bethany Hamilton was out catching waves again not long after the accident. Though she faced obstacles she didn't let them keep her from following her dream of being a pro surfer. Ten years later she's still in action and wants to inspire other girls to stay fit and active too…
In this interview Bethany talks about what keeps her encouraged, why staying fit is important and how other girls can win a prize by submitting a picture of themselves being "Awesomely Active." She also tells us about her fiancé Adam and why he's so special to her. Watch the video below to hear her share her story, see pictures of the beautiful couple and to watch Bethany in action – we hope you're inspired to also get awesomely active and follow your dreams!
Tune Into the Interview with Bethany Hamilton Below!


Interview by Valder Beebe of the Valder Beebe Show, Media Partner of DreamerENT
Are You Awesomely Active? Submit Your Picture and You Might Win a Prize!

"Between surfing, traveling and now planning a wedding, I'm excited for an awesomely active summer and want girls to join me in showing off their active moments too…" – Bethany Hamilton

Bethany is the inspiration for the Tampax Awesomely Active campaign. Her courage and strength inspires girls all over the world to get out there and pursue their dreams — and to never let anything stop them.

Girls like you can enter the Awesomely Active Girls Challenge by submitting a photo of them taking on their favorite activity, anything from hiking to bike riding, dance to swimming, with 140 character caption on Facebook.com/Tampax.

Each week, a winner will be selected and highlighted as the "Awesomely Active Girl of the Week," not only receiving the spotlight but also $500, a year's supply of Tampax Pearl Active and

The last day to submit your picture is July 21st, so get going and get snapping!

Visit the Tampax Facebook page now to find out more and to submit your picture! Watch Bethany share more about the contest and ideas to be active below!
You might also like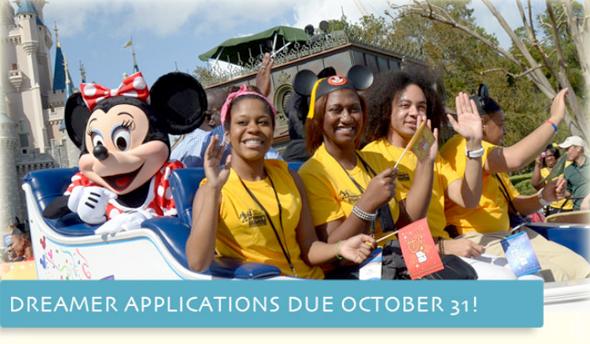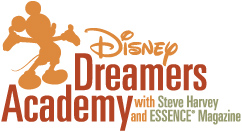 What do all Dreamers have in common? They're creative, eager to learn, and dedicated to pursuing their dreams with passion. Does this sound like someone you know? Steve Harvey and Essence Magazine are looking for Dreamers for next year's Disney's Dreamers Academy where you can get the tools to help make their dreams come true.
This is an amazing opportunity where you can learn from a variety of creative professionals and mentors who will motivate you to take the steps that will lead you to success in the career that you aspire to pursue.
Last year's Dreamers also got to interact with various celebrity guests throughout the four-day experience including Yolanda Adams, Cupid, Terrence J, Wendy Raquel Robinson, Jordin Sparks, Lance Gross and of course Steve Harvey.
The Details: Potential Dreamers must be between the ages of 13–19, live in the United States, and be enrolled in high school grades 9–12 when entering. For a complete list of rules and the application click here.
Watch the videos below for fun clips from the Disney's Dreamers Academy 2012
You might also like



If you're a teen who loves music and want to learn about music careers (from an audio engineer, concert promoter, electronic music producer, manager, musician, music journalist, singer, and songwriter), be sure to apply for GRAMMY Camp 2012. GRAMMY Camp will be held for the 8th year in Los Angeles, for the 2nd consecutive year in New York, and for the first time ever in Nashville, TN in Summer 2012.
About GRAMMY Camp
You get to spend more than a week living, breathing, eating, drinking music – with students from all over the country and music industry pros who know how it all works. You'll meet guest artists, write and record new music, visit cool music sites, and finish strong with a final concert in a professional venue…

Plus – financial assistance is available for students who need it.
The deadline is March 31! For more information and to apply, visit www.grammyintheschools.com.
You might also like
Recording artist John Legend not only has a passion for singing but for motivating young people to plan for the future through education. Dreamer ENT's media partner the Valder Beebe Show spoke to John about his current project with Samsung, a contest to win $1 million dollars for schools. Visit www.samsung.com/solvefortomorrow and watch the video below to learn more about how you can enter by submitting your creative video on how you can use science, math and technology to help your community (click here to learn about last year's winners and finalists):


You might also like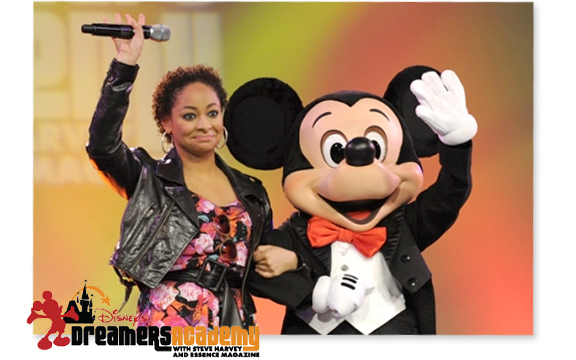 The students at Canal Point Elementary have been doing awesome things in their budding journalist program, interviewing esteemed people like Oprah Winfrey and even President Barack Obama! KEC TV is an award winning television news program that is broadcasted to the 500 students at KEC/Canal Point Elementary. The news program is completely produced by a selected group of 4th and 5th grade students. Visit their Youtube channel to see more of their interviews.
Below check out their interviews with Raven Symone and Yolanda Adams at the 2011 Disney's Dreamers Academy.
To find out more about the Disney's Dreamers Academy and to apply visit www.disneysdreamersacademy.com; (applications for next year's program are now available through October 31, 2011!).
Meet the 2011 Dreamers

The 2011 class of Disney's Dreamers Academy truly is an extraordinary group of kids. These 100 young students come from all over the country, each representing a different path to the Disney's Dreamers Academy, and each proving that with hard work and a little magic, your dreams really can come true. Discover the stories behind each member of this class and follow along on their journey as they aspire to make their dreams come true…


Continue reading to meet the Dreamers!
You might also like