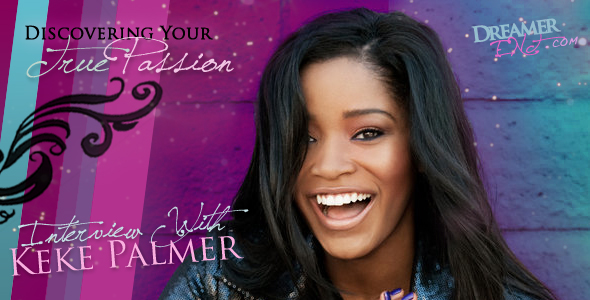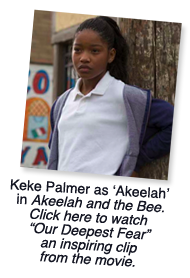 You may know her best from her role on the hit Nickelodeon show True Jackson V.P. about a teen girl who becomes a vice president at a billion dollar fashion company (talk about dreaming big:). She also stole our hearts and had us cheering for her character, the sassy Akeelah Anderson in the inspiring movie Akeelah and the Bee, opposite actor Laurence Fishburne and Angela Bassett.
Keke has starred in numerous other roles including movies like Shrink, The Longshots, Madeas's Family Reunion, The Wool Cap and Jump In. Her energetic and upbeat personality and truly natural talents, spanning film, television, and music alike, have made her one of the fastest rising young stars in entertainment today. She started pursuing her dreams of singing and acting at a young age, and her hard work and determination has really paid off!
Our media partner The Valder Beebe Show chatted with Keke about the advice she would give to young people on following their dreams. Read and listen to what she had to say: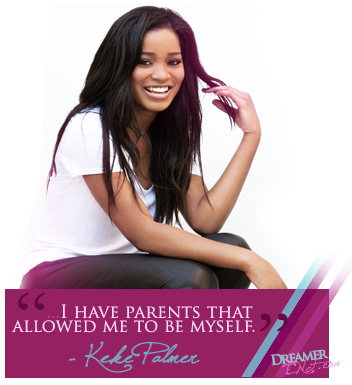 Q: You found out and pursued what you love to do at a young age. What advice would you give young people on finding their passions and following their dreams?
Keke Palmer: You know I have parents that allowed me to be myself. It's easy for me to be able to explore who I was because you know my parents inspired…urged me to do that… They told me to try stuff, they told me to be free and to be open and be creative and so I was lucky for that… and a lot of kids I know don't have that.
So the best thing to do I have to say is you know, if you think you're interested in something try it out…don't be afraid or don't be worried about what people might think. Just try it out because it's in those things where you figure out who you really are and what your true passion is, you learn by trial and error.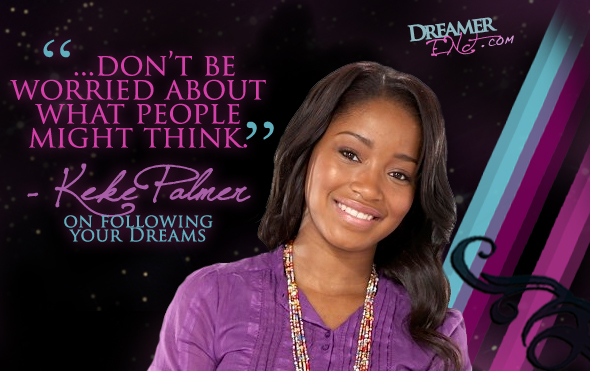 Great advice! You can keep up with Keke and all of her projects at her website www.kekepalmer.com. She recently wrapped up filming if the movie A Joyful Noise alongside Queen Latifah and Dolly Parton and is working on some new projects, including a new album of which she'll be releasing two new singles in July.
Along with her acting and music projects Keke also gives back to the community and especially to youth. Last year she was honored with award from the organization "Black Girls Rock" and she gave some inspiring words to girls on following their dreams; check out the video below:

Read More »
You might also like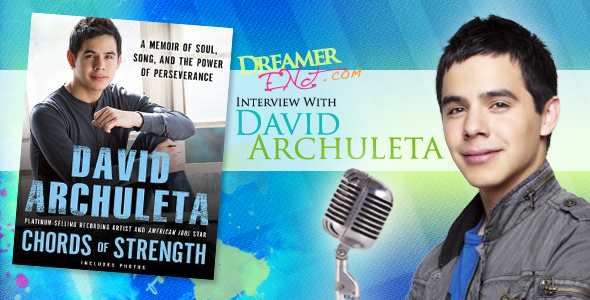 You might know David Archuleta mostly for his soulful, relatable music, but did you know he also wrote an inspirational book that was on the New York Times Bestsellers List? The American Idol runner-up penned Chords of Strength: A Memoir of Soul, Song and the Power of Perseverance where he shares the unexpected journey from the competition to his successful singing career, and how he overcame obstacles like vocal cord paralysis to achieve his dream of being a singer. Dreamer ENT's media partner The Valder Beebe Show spoke to David about the success of the book and of his recent music; read and listen to what he had to say below:
David On Writing His Book

David On Writing His Book Chords of Strength
"It was something that I never thought I'd ever do because I just didn't think I was capable of doing it… But I guess that's kind of the theme of my life and it's actually kind of the things I talk about in the book,
just about going for things that you don't think you're able to do, you don't think you're good enough or ready for yet, but it's about taking the chance when you're given that opportunity and it's amazing what could be the outcome of it.
"It's been a really wonderful experience hearing the positive feedback from people on it and seeing how it's been helpful to people who have read it. That was really the goal of it just being able to help by sharing experiences that I have had and hoping that it will be helpful to people when they read it – I'm really happy with the way it's

turned out."
More About Chords of Strength

"In this personal memoir, David Archuleta reveals insecurities he felt about his voice-before he realized that he loved the way singing made him feel more than he disliked the way he sounded. He opens up about the strength he draws from his unshakable faith and unyielding family. He pays tribute to those who continue to inspire him and through their example help him believe in himself, his talent, and his abilities.

"Intimate and uplifting, Chords of Strength allows a unique glimpse of the man behind the music and offers hope to anyone with a passion and a dream." – Publisher's Description
We love David's song "Something About Love," from his latest album The Other Side of Down. David says the song is more uptempo then what he's been known to do, and that he was excited to get more involved with the writing process of on the album.
David On Making His Recent Album
The Other Side of Down
"I just wanted to show more of me and show more of the things that I believed in… allow people to relate to me more, kind of see my personality more in the songs."
Watch the video for "Something About Love," below:
David's Blog
From David's Website: "Check out this recent video blog from David, all about family, appreciating what you have…and a little bit about exercise. So make sure to give your family some love, and get out there and exercise a bit!"

Read More »
You might also like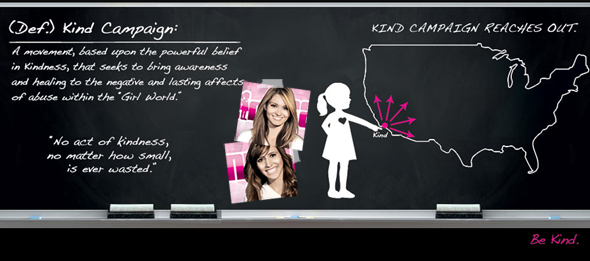 "You are the only you that will ever walk the face of this earth…BE KIND." – Lauren Parsekian, co-founder of Kind Campaign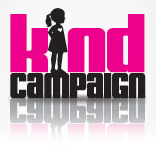 Mean girls, bullies, gossip – why do we see so much "mean" in schools today? Kind Campaign is a movement and documentary that's not afraid to ask this question. The campaign is based upon the powerful belief in KINDness, that brings awareness and healing to the negative and lasting effects of girl-against-girl "crime" and bullying.
The movement was founded by Lauren Parsekian and Molly Stroud after they graduated from college and were tired of the conflicts they witnessed throughout their lives between girls. They are now speaking at schools across the country and spreading the love. Watch the trailer for the Finding Kind documentary below to see clips from the film. You can help spread the message of the campaign by filling out an apology or pledge on the website, www.kindcampaign.com.
A Message to Girls From the Kind Campaign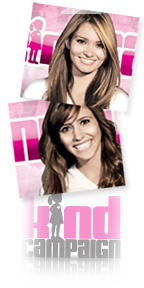 YOU ARE NOT ALONE.
Every single girl has encountered an experience at some point within their lives in which they become aggressors or victims of girl-against-girl "crime". Physical fighting, name-calling, threats, power struggles, competition, manipulation, secrets, rumors, and ostracizing other girls, all fall under the category of girl-against-girl "crime". These "crimes" strip us of our identity.
Let's be real for a second. We all want to be liked. It's already hard enough to accept ourselves for who we are, let alone accept the perceptions and judgments that other girls have of us. Over the years, the vicious ways in which females treat each other have become societal norms. With various media outlets that mock and even glamorize the issue, it seems that society has simply concluded, "That's the way girls are." We disagree, because we believe that there is goodness within all females, even if that goodness has been shoved aside by the pressures society has placed upon us. What we fail to realize and choose to ignore is the fact that these experiences very often lead to depression, anxiety, loss of self worth, eating disorders, drug abuse, alcoholism, attempted suicide and actual suicide in millions of girls lives.
But why? Doesn't it seem odd? Don't you think that as females, we should respect and support each other? Well, we think so… "We" are two Pepperdine alumni, Lauren Parsekian and Molly Stroud, who have recognized this problem and have decided to do something about it. Whether it's your friends, family, acquaintances at school, people in the workplace, or even strangers, Kind Campaign is asking us all to reconsider the way we treat other females.
Look, we know it's hard to be a girl sometimes. We aren't asking for everyone to become best friends…that's simply unrealistic. However, we are suggesting something very simple: to STOP the competition, STOP the cattiness, STOP the hate, and to BE KIND.
More About the Kind Campaign

Through the Kind Campaign documentary, we hope to display the often-vicious way females treat each other, and to bring to light the serious affects these experiences can have on girl's self-esteem and personal growth. Unfortunately, the affects of this issue extend further than a damaged self-esteem. Through research, personal experience, and interviews, we have seen these experiences result in depression, eating disorders, drug use, alcoholism, attempted suicide and actual suicide.
You might also like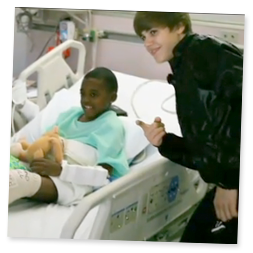 This Christmas season you may have gotten and given gifts, but a priceless give that anyone can give is love. Everyday we can ask ourselves, how can we serve and love others in our communities through our time and talents, and how will we put it into action? Justin Bieber reminds us all to support, think about and pray for people around the world who are suffering and less fortunate in the video for his song "Pray." Monique Coleman described the beauty of the video on Twitter saying:
"One of my 8yr old friends just showed me Justin Bieber's video for "Pray". I'm SO proud to see him using his influence to raise awareness…

"Art is such a powerful tool & its always inspiring to see young artists using their influence in a positive way. We need more of that…Our talents & gifts aren't meant to be wasted on selfish pursuits; they actually call us to bless others, give voice to issues, and teach…" – Monique Coleman
You might also like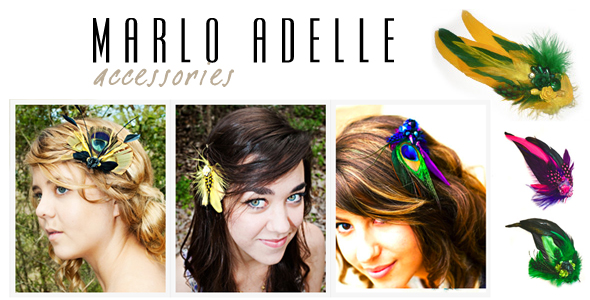 Still looking creative gift ideas, and want to support young entrepreneurs while shopping? Check out Marlo Adelle Hair Accessories a handmade and fashionable feathered hairclip line created by a teen business owner: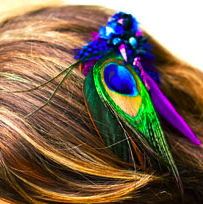 The Story Behind Marlo Adelle Hair Accessories

Marlo started making hair accessories to go with her outfits at age 14. Her friends requested personalized hair clips for themselves. Her mother helped her sew them and eventually they introduced them to local businesses in downtown Austin.

As demand increased, Marlo turned to Craig's List for potential hairclip helpers. The helpers came to the family home, were trained and Marlo provided them patterns to trace. By the third year, Marlo was selling in 12 boutiques in Austin and in California, as well as online. In 2008 Whole Foods Market ordered her new line of romanticized feather hairclips with a vintage flare.



Giving Back

As Marlo continued to grow her business, she was involved in giving back to her community through volunteer efforts in PALS and teaching art at Laguna Gloria Art School. She traveled to the Dominican Republic to teach art to impoverished children. With three employees, Marlo plans to continue her business while in college and to expand the online business.
You can find out more about the business and how to order at www.marloadelle.com
You might also like