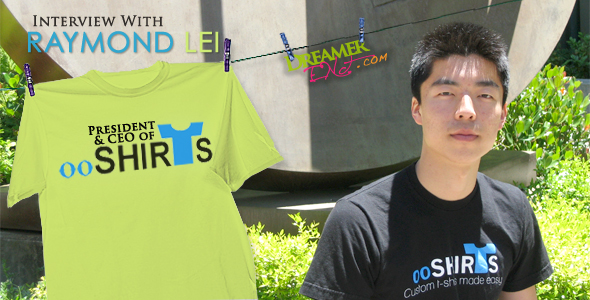 Entrepreneurship is all about fitting your skills and creativity to serve the needs of those around you. 19-year-old Raymond Lei is doing just that as he helps people everywhere customize their style through his T-shirt company ooShirts.com.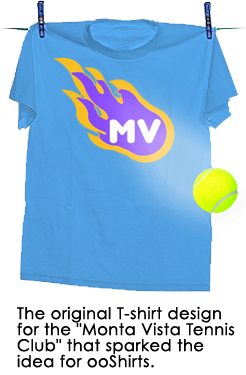 The idea for ooShirts was sparked in 2006 when a group of Raymond's classmates needed custom t-shirts for their school club, "Monta Vista Tennis Club." Then a sophomore in high school, Raymond took up the task of finding a company to print their shirts. He looked through both local and online companies, only to discover time after time that the Tennis Club couldn't afford to have its design printed.
Disappointed at the poor selection of affordable services, Raymond vowed to one day start a t-shirt company that saved its customers money. He gathered up $2000, began planning and in March of 2007 the first ooShirts website was launched. The site allows anyone to upload their own design, pick a shirt style and color and have their t-shirt printed and shipped. Ever since, Raymond has been serving up personalized style a tee at a time. Check out what he had to share with Dreamer ENT about being a young entrepreneur:
Dreamer ENT: Tell us about you: How old are you, what school do you go to, your major and year?

Raymond Lei: I'm 19 years old and I'm a business major at UC Berkeley. I'm going to be a sophomore next semester.






DE: Tell us about your company and the concept and mission behind it. Where did the name come from?

Raymond: The company sells custom printed t-shirts to groups. Typically, you need a large budget to get your shirts done, but my goal is to make this affordable by running a more focused and efficient business.
When I was 16, I saw that Google and Yahoo, two of the largest tech companies, had two o's each in their names. "That must be the trick!" I thought to myself, and named my company ooShirts.

DE: When did the idea of ooShirts come to you and what sparked it?

Raymond: I was actually ordering t-shirts myself for a club at my high school. I was making a fairly large order for 50 shirts, and I wanted to have a fancy design printed on it. Unfortunately, every company I talked to, online and offline, couldn't provide prices that satisfied my budget. They told me I had to use a black and white logo for my shirts. Unwilling to settle, I did quite a bit of research on this and determined that the prices were high because the industry isn't very efficient.






DE: How successful has business been so far? Are there any milestones you can tell us about?

Raymond: We sold more than 10000 shirts in the month of June, and are aiming for this number to grow to 30000 per month by December.



DE:Wow! What type of customers would you say is your main base so far?

Raymond: The main customer base is people like me when I was ordering shirts for my club. I had a design in mind, I needed a lot of shirts, and I wanted them at a low price. We provide quality shirts and service at a lower price.



DE: What would you say sets you apart from your competitors?

Raymond: Price. Our website, customer service, and print quality is at the same level as our top competitor, but our prices are 30 to 50 percent lower than theirs. We do this by being more efficient through a combination of automation, supply chain optimization, and outsourcing.



DE:- I like how your site is set up. Do you also let people set up storefronts on your site or from their own sites to sell shirts they design?

Raymond: No, not yet. I can see that happening one day, but I don't think we're ready to set up a platform like that just yet.



DE: Are you working on any other business ideas?

Raymond: Not right now. ooShirts is growing very quickly and it's simply not worth it to invest time elsewhere. In the past, however, I have experimented with a few social networks but found them to be a little too unpredictable for me.



DE: What do you hope to do after college?

Raymond: Continue with ooShirts and, when ooShirts has matured, start new businesses.



DE: Who are some of your inspirations in business, life and the career field you are pursuing?

Raymond: I think many businesses out there are really poorly run. I won't say any names, but everyone out there can probably name a few businesses that are frustrating to deal with, and only manage to stay in business because they are already so large and no alternatives exist. I want to one day have the capital to compete against these companies and give people better alternatives in who they do business with. In the end, businesses are supposed to help people, and I want to encourage that.



DE: What are some of your other hobbies; what do typically like to do for fun?

Raymond: I enjoy playing tennis, playing ultimate frisbee, talking about ideas, tasting food, playing poker, building exceptionally fast computers, and having meaningful conversations.



DE: Do you give back to the community in any way or have any plans to do so?

Raymond: Yes. I enjoy listening to peoples' ideas and discussing ways to make them become true. During my next school year, I plan to host a $10,000 startup competition at my university.



DE: What advice would you give to other young entrepreneurs

Raymond: Do something you enjoy – if you view your work as a means to an ends, you shouldn't do it. But if you enjoy what you do and think others will appreciate it as well, don't let anything stop you.
DE: Thanks Raymond for sharing your story and advice.
You can find out more about ooShirts and how you can design your own customized shirts online at www.ooshirts.com.
You might also like