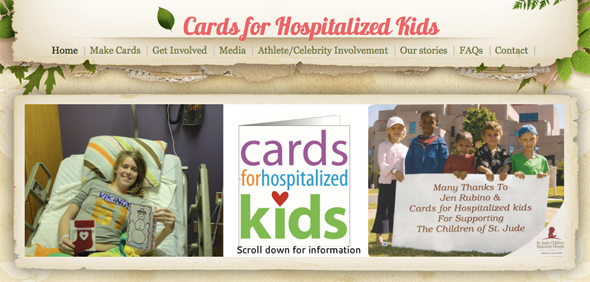 Cards for Hospitalized Kids is an awesome organization that gives hope, joy & love to hospitalized kids across America through cards. You can get involved by making cards to send, hosting or attending a card-making event or referring a child to receive a card. I was inspired by how many kids have been reached already by this awesome organization! Visit http://www.cardsforhospitalizedkids.com to find out how you can join in on this cause.
Cards for Hospitalized Kids was founded by 17-year-old Jen Rubino who shares her story about her own hospital stay and inspiration to start the organization on the website:
Jen Rubino, Founder of Cards for Hospitalized Kids, Shares Her Story

Above: Cards for Hospitalized Kids founder Jen Rubino was interviewed by B96's Rebecca Ortiz on December 8, 2011.

My motivation for creating Cards for Hospitalized Kids goes back to my own experience as a patient, which began when I was diagnosed with a chronic illness at age 11. Since my health problems began six years ago, I've undergone 15 surgeries and have had countless treatments and hospital visits.

My experience as a patient has shown me how difficult it is to be a hospitalized kid. Kids who are hospitalized often feel isolated and forgotten about. They also miss out on many of the little things in life that most children take for granted.

My experience as a patient has also shown me that cards can bring hope and joy into the lives of hospitalized kids, which is why I founded Cards for Hospitalized Kids.

As the founder of Cards for Hospitalized Kids, I am able to use my own experience as a patient in a way that allows me to help children across America who are facing what I've faced.

Lifting others up through Cards for Hospitalized Kids has allowed me to lift myself up as well and, chronic illness or not, I know it will be the same for everyone who gets involved with Cards for Hospitalized Kids.
You might also like
Check out the videos of 28 businesses created by high school and middle school students around the country who are competing in the NFTE 2010 Elevator Pitch Challenge. The students have thirty seconds to present their business idea before time runs out, for the opportunity to get funding to actually start their businesses.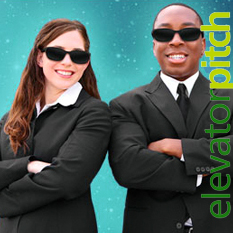 From photography businesses to sweet treats and other products and services, check out the creative ideas these young people have dreamt up, and vote for your favorite elevator pitch videos! Visit www.elevatorpitch2010.com to view the videos and to vote. (You can vote once per day).
What is an elevator pitch?
An "elevator pitch" is a carefully crafted message designed to explain a business to a potential investor. The catch — it must be given in the time that it takes to ride up an elevator. Vote now for your favorite young entrepreneur.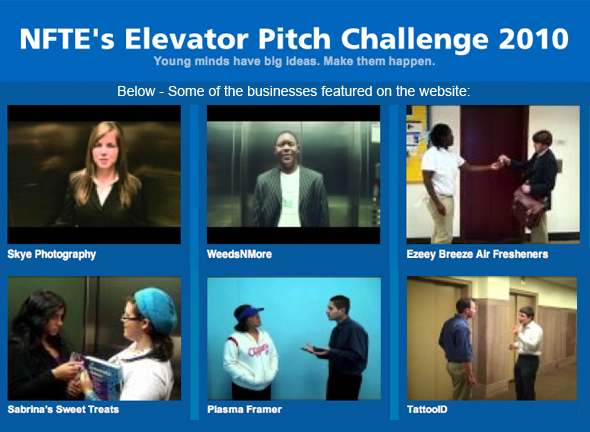 You might also like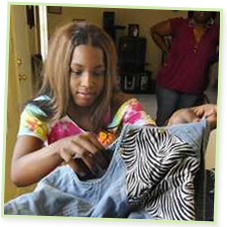 Check out this video from CNN where a South Florida senior named D'Anna talks about how she started her own creative clothing customization business, D'Anna Dolly's House of Fashion.
The young fashionista reworks jeans, jackets and other items by tie-dying, sewing material or adding jewels & studs. You can read more about D'Anna and another teens in this article from the Miami Herald that also talks about how you can also start your own business this summer instead of wading through the current unpredictable job market.
Photo Source: The Miami Herald
You might also like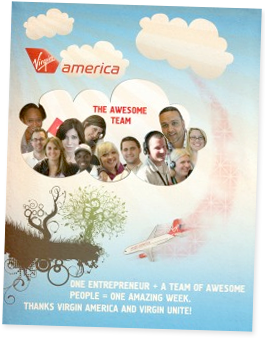 Here's a cool link from one of our partners NFTE, telling the story of a South Florida teen and young entrepreneur who got the opportunity to fly high with Virgin America airlines, even getting to meet the founder:
Sir Richard Branson, [founder of Virgin America and its other related brands] recently visited South Florida to launch his signature airline's new terminal at Fort Lauderdale International Airport. During his visit, he met with students from NFTE South Florida's E-Club, to share his secrets for success… then took them on a personal tour of an airplane!

During that tour, Richard Branson discovered that one student Darnell had never been on a plane before. [Darnell is a NFTE alumnus who had created his own business plan for "LD Designs" developing websites.] On the spot, he offered Darnell a free round-trip ticket to their headquarters in San Francisco.
His week in San Francisco was documented on the website below, with videos, tweets and a blog. Check it out to see Darnell's trip in action: http://virginandnfteproject.weebly.com
Also check out the video below showcasing his experience – it looked pretty fun:
.
You might also like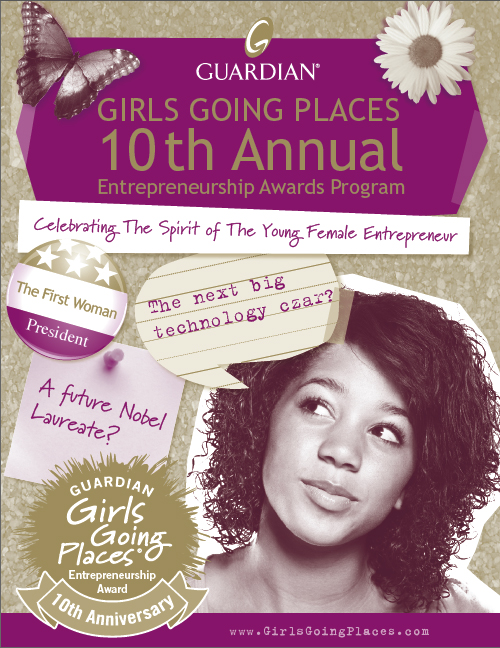 Here's a great entrepreneurship opportunity for girls, the Girls Going Places Entrepreneurship Award Program. The contest is giving grants to girls who have creative business ideas. Visit http://www.girlsgoingplaces.com for more information, to see last years winners and to download an application.
Thanks to teen business coach Shonika Proctor from the Teen Entrepreneurship Blog for the heads up!
Description From the Website:
The Girls Going Places® Entrepreneurship Award Program is celebrating its prestigious 10th anniversary by opening its 2010 award program for entries.
Deadline: February 26, 2010. Submissions received after the deadline date will be entered in the 2011 competition.
See below for more info on the contest and local area conferences:
You might also like