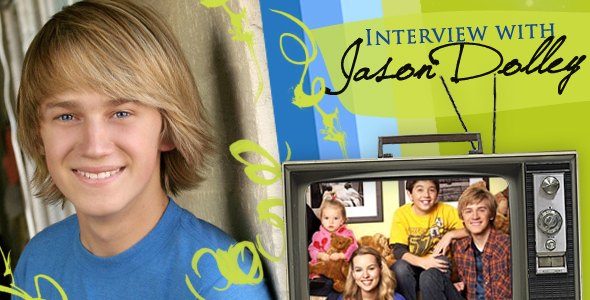 18-year-old Jason Dolley started following his dream of becoming an actor at a young age when he entered a school talent show. By 11-years-old he had made his film debut as the lead role in the award-winning short film "Chasing Daylight". He later went in to star on major shows like Mel Gibson's ABC comedy series "Complete Savages," and made us laugh with his fun-loving character 'Newt Livingston' in Disney Channel's original series "Cory in the House," alongside Kyle Massey and Madison Pettis, as well as a number of other shows and films.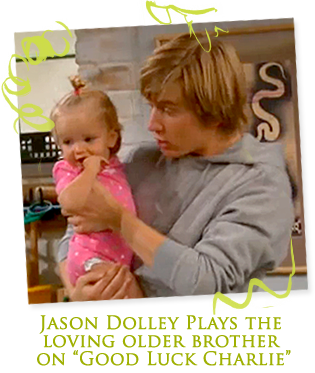 Now Jason is starring as PJ Duncan, older brother to baby Charlie in the Disney Channel Original Series "Good Luck Charlie" that premiered April 4. The series is about the Duncan family, who are still getting used to the "surprise" birth of their fourth child, Charlotte "Charlie" Duncan.
When their parents return to work, they ask their three older children—teenagers Teddy (played by Bridgit Mendler) and PJ (Jason's role), and their ten-year-old brother, Gabe (Bradley Steven Perry)— for help raising their little sister. Teddy starts filming videos giving advice to Charlie about their life at home to give to her when she gets older and when Teddy leaves for college. The show definitely looks funny and like something the whole family would love. (Click here to watch the official preview video for the show and visit the show's official website for more info and fun features.)
Dreamer ENT's media partner the Valder Beebe Show chatted with Jason about his previous role on "Cory in the House" and new role on "Good Luck Charlie," as well as how he stays grounded in his rising career.
Listen in to the full interview below:
Jason on How He Stays Grounded:

Question: You have such an opportunity that many are envying in the world, they say "I wish I could be on that sitcom, I wish I could be on TV…" How are you going to keep your balance, how are you going to keep your perspective?
Jason Dolley: I think how I'm really fortunate in that area is I grew up in southern California, I lived in the same house that I was born in, which only half an hour to an hour away from town. So when I'm not working and I'm at home I'm where I grew up, I'm in my roots, you know I can hang out with friends who I grew up with and I can just feel like one of the guys and I think that and having an incredible family support that's just been with me all the way has been really integral to keeping me grounded.
Jason currently lives in Los Angeles with his family, and according to his website he's also an excellent student, maintaining a consistent 4.0 grade point average throughout high school. Now that's impressive! Currently a college student, he enjoys playing his guitar and piano, video games, and paintball battles with his friends. Visit his site at www.jasondolley.com to learn more about him and his upcoming projects.
You might also like