Do you have a creative dream you'd love to grow this year? Come hangout with me and the founders of Queen Girls to be inspired to Dream BIG! Anything is possible if you work strategically and put an engine on your vision…
If you're like me and have a deep passion for empowering our kids and youth then you'll love this project created by these inspiring ladies. Queen Girls is a series of children's books that turn stories of real women into fairy tales to encourage them to live out their dreams.
When I first saw this amazing project I was immediately drawn in like YES! This is what our girls need to see, that their dreams are possible and that they shouldn't be afraid to dream BIG – and the same for you and I! Stay tuned for more from our conversation where we talk about how we can empower kids together and what kids teach us about living more fully and vibrantly.
The first book in the Queen Girls series shares the story of the first African American woman pilot Bessie Coleman and the illustrations are so vibrant, enchanting and engaging. You can help bring this project to life by donating to the IndieGogo campaign and pre-ordering your copy to help bring these books to children in need of inspiration and connect with them on social media and their website: www.queengirlspublications.com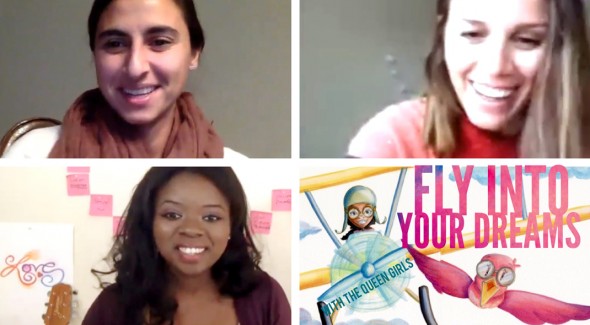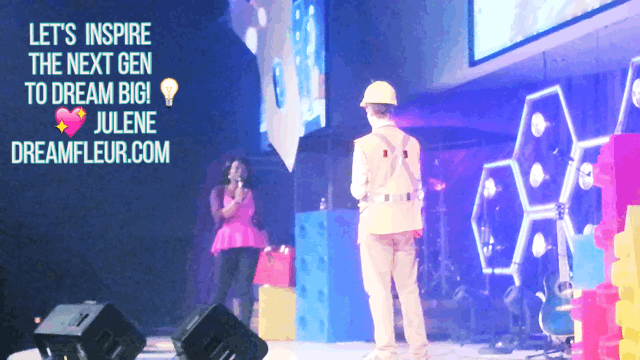 Above: Inspiring youngin's LEGO Movie-style… One of my favorite things to do is create and speak at experiences and workshops merging music, drama and interaction for kids and youth to inspire them to live their dreams boldly in purpose. Together we can inspire the next generation! – Julene
You might also like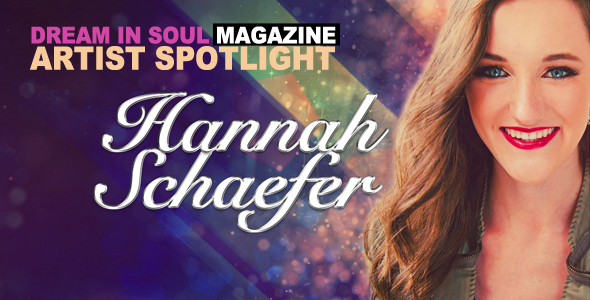 19-year-old Hannah Schaefer shares her story of stepping out to follow her calling as a singer and learning to trust the process. Her song "All the Way" reminds us that we're not alone even when we step into the unknown places in life to pursue our purpose…
"Through my music…I want to bring hope, faith and love with every song I sing/write and change lives."
– Hannah Schaefer
For this Artist Spotlight feature 19-year-old Hannah Schaefer introduces herself and the story and passion behind her music and the song "All the Way." Take a listen to the song below and click here to get her EP on iTunes!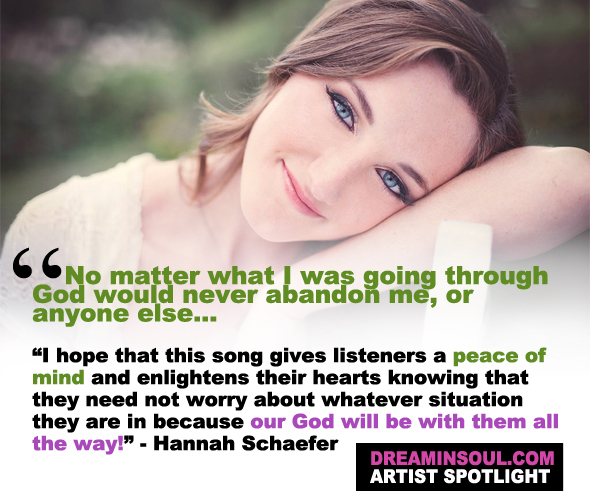 Hannah's Story
I grew up in the small town of Columbia City, Indiana. My childhood memories consists of catching frogs on warm summer nights at my grandparents lake house and, in the winter time, pretending to be a professional snow boarder down the hill in my backyard. I've loved growing up in a flyover state where Jesus is frequently the center of it all…

You might also like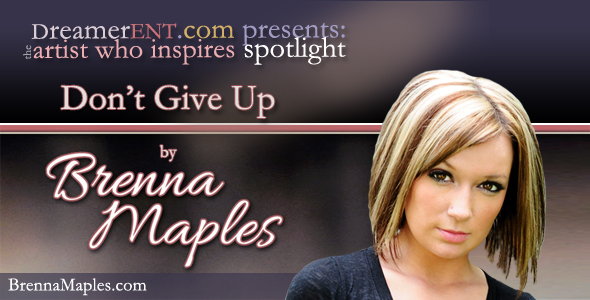 "You never know until you try, you've got to pick yourself up and don't give up…" – Brenna Maples
We've chosen Brenna Maples as our Artist Who Inspires Spotlight & for this motivational Music Pick because she's a rising country music artist who creates songs from the heart and with a deeper meaning.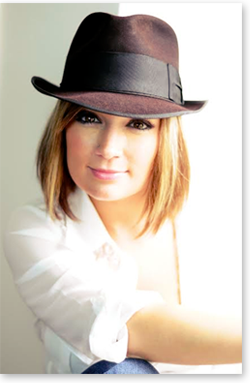 Here's what she had to say about her moving, encouraging song "Don't Give Up" which has an uplifting message for anyone following their dreams or going through a tough time in life. The song weaves together stories inspired by her family and and we love the soothing sound of her voice:
This is a song for everyone who has gone through or is going through a hard time in life. No matter what, don't give up.

"Don't Give Up" is a song I wrote about my grandpa's life events. He is still living and survived all of that! I also wrote it to encourage my sister to not give up through her battle of cancer. She has been cancer free for over a year, but she is still looking for a donor for a kidney transplant. I told her to not give up and to stay strong! This song is also for everyone that is going through a hard time. I want the song to encourage them to stay strong through whatever life brings and to not give up!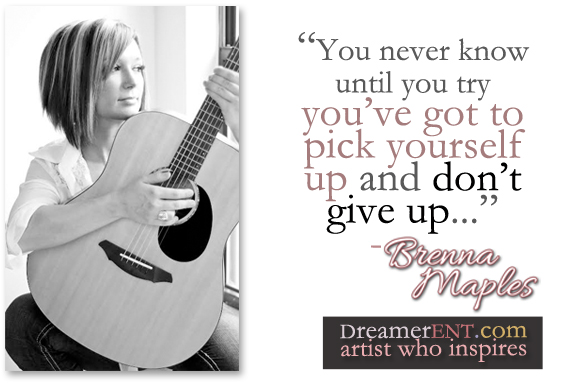 Brenna Maples is a country singer that performed at Dollywood for the past three years and at the Smoky Mountain Opry in Tennessee. She has performed with Dolly Parton as well as singing back ground vocals for her at media events. Her first CD has been finished and entitled Brenna Maples. Brenna has recently moved to Nashville and become a songwriter for ASCAP. She is looking forward to what the future brings in her music career. You can keep up with her on Facebook, Twitter, Youtube, and iTunes.
Connect with Brenna Maples At Her Website and on Social Media:
You might also like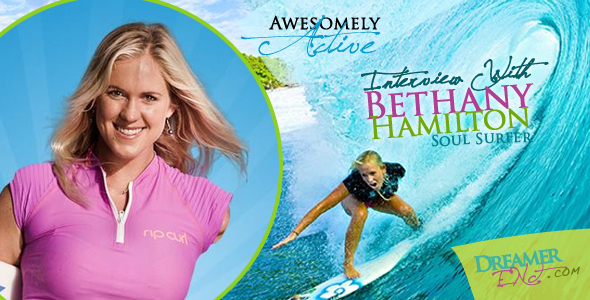 Her strength, resilience and vibrant energy have captured the attention of the world – and she's not stopping anytime soon. After she lost her arm in a shark attack Soul Surfer Bethany Hamilton was out catching waves again not long after the accident. Though she faced obstacles she didn't let them keep her from following her dream of being a pro surfer. Ten years later she's still in action and wants to inspire other girls to stay fit and active too…
In this interview Bethany talks about what keeps her encouraged, why staying fit is important and how other girls can win a prize by submitting a picture of themselves being "Awesomely Active." She also tells us about her fiancé Adam and why he's so special to her. Watch the video below to hear her share her story, see pictures of the beautiful couple and to watch Bethany in action – we hope you're inspired to also get awesomely active and follow your dreams!
Tune Into the Interview with Bethany Hamilton Below!


Interview by Valder Beebe of the Valder Beebe Show, Media Partner of DreamerENT
Are You Awesomely Active? Submit Your Picture and You Might Win a Prize!

"Between surfing, traveling and now planning a wedding, I'm excited for an awesomely active summer and want girls to join me in showing off their active moments too…" – Bethany Hamilton

Bethany is the inspiration for the Tampax Awesomely Active campaign. Her courage and strength inspires girls all over the world to get out there and pursue their dreams — and to never let anything stop them.

Girls like you can enter the Awesomely Active Girls Challenge by submitting a photo of them taking on their favorite activity, anything from hiking to bike riding, dance to swimming, with 140 character caption on Facebook.com/Tampax.

Each week, a winner will be selected and highlighted as the "Awesomely Active Girl of the Week," not only receiving the spotlight but also $500, a year's supply of Tampax Pearl Active and

The last day to submit your picture is July 21st, so get going and get snapping!

Visit the Tampax Facebook page now to find out more and to submit your picture! Watch Bethany share more about the contest and ideas to be active below!
You might also like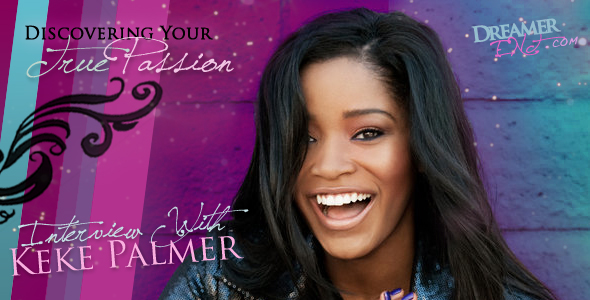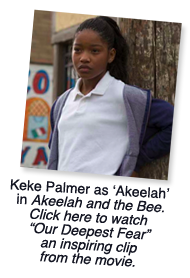 You may know her best from her role on the hit Nickelodeon show True Jackson V.P. about a teen girl who becomes a vice president at a billion dollar fashion company (talk about dreaming big:). She also stole our hearts and had us cheering for her character, the sassy Akeelah Anderson in the inspiring movie Akeelah and the Bee, opposite actor Laurence Fishburne and Angela Bassett.
Keke has starred in numerous other roles including movies like Shrink, The Longshots, Madeas's Family Reunion, The Wool Cap and Jump In. Her energetic and upbeat personality and truly natural talents, spanning film, television, and music alike, have made her one of the fastest rising young stars in entertainment today. She started pursuing her dreams of singing and acting at a young age, and her hard work and determination has really paid off!
Our media partner The Valder Beebe Show chatted with Keke about the advice she would give to young people on following their dreams. Read and listen to what she had to say: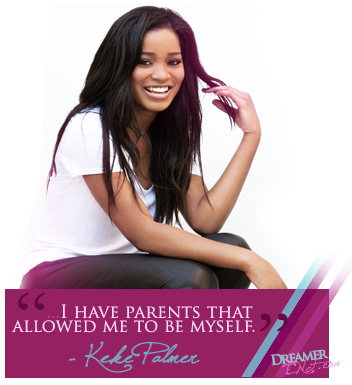 Q: You found out and pursued what you love to do at a young age. What advice would you give young people on finding their passions and following their dreams?
Keke Palmer: You know I have parents that allowed me to be myself. It's easy for me to be able to explore who I was because you know my parents inspired…urged me to do that… They told me to try stuff, they told me to be free and to be open and be creative and so I was lucky for that… and a lot of kids I know don't have that.
So the best thing to do I have to say is you know, if you think you're interested in something try it out…don't be afraid or don't be worried about what people might think. Just try it out because it's in those things where you figure out who you really are and what your true passion is, you learn by trial and error.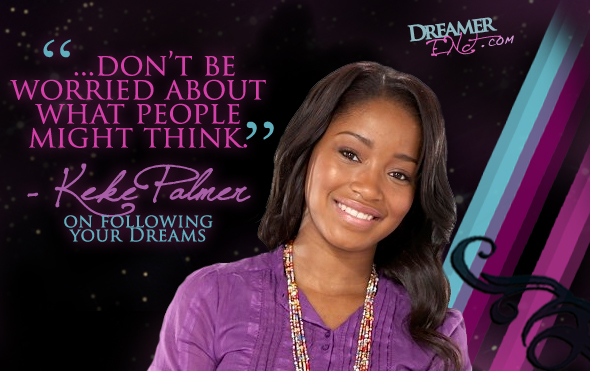 Great advice! You can keep up with Keke and all of her projects at her website www.kekepalmer.com. She recently wrapped up filming if the movie A Joyful Noise alongside Queen Latifah and Dolly Parton and is working on some new projects, including a new album of which she'll be releasing two new singles in July.
Along with her acting and music projects Keke also gives back to the community and especially to youth. Last year she was honored with award from the organization "Black Girls Rock" and she gave some inspiring words to girls on following their dreams; check out the video below:

Read More »
You might also like