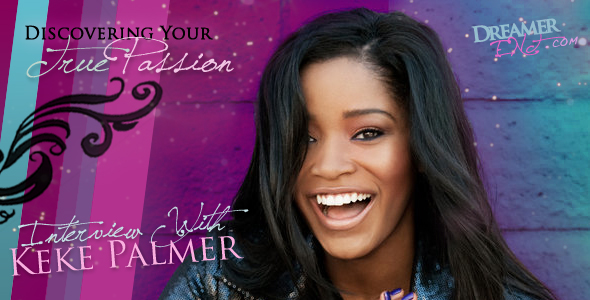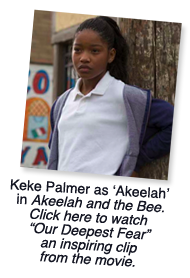 You may know her best from her role on the hit Nickelodeon show True Jackson V.P. about a teen girl who becomes a vice president at a billion dollar fashion company (talk about dreaming big:). She also stole our hearts and had us cheering for her character, the sassy Akeelah Anderson in the inspiring movie Akeelah and the Bee, opposite actor Laurence Fishburne and Angela Bassett.
Keke has starred in numerous other roles including movies like Shrink, The Longshots, Madeas's Family Reunion, The Wool Cap and Jump In. Her energetic and upbeat personality and truly natural talents, spanning film, television, and music alike, have made her one of the fastest rising young stars in entertainment today. She started pursuing her dreams of singing and acting at a young age, and her hard work and determination has really paid off!
Our media partner The Valder Beebe Show chatted with Keke about the advice she would give to young people on following their dreams. Read and listen to what she had to say: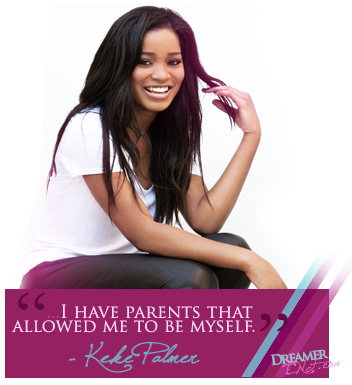 Q: You found out and pursued what you love to do at a young age. What advice would you give young people on finding their passions and following their dreams?
Keke Palmer: You know I have parents that allowed me to be myself. It's easy for me to be able to explore who I was because you know my parents inspired…urged me to do that… They told me to try stuff, they told me to be free and to be open and be creative and so I was lucky for that… and a lot of kids I know don't have that.
So the best thing to do I have to say is you know, if you think you're interested in something try it out…don't be afraid or don't be worried about what people might think. Just try it out because it's in those things where you figure out who you really are and what your true passion is, you learn by trial and error.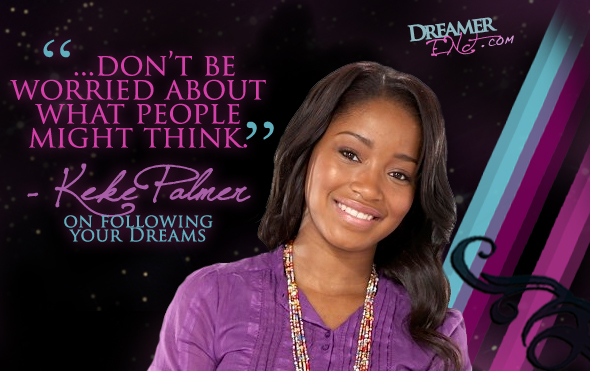 Great advice! You can keep up with Keke and all of her projects at her website www.kekepalmer.com. She recently wrapped up filming if the movie A Joyful Noise alongside Queen Latifah and Dolly Parton and is working on some new projects, including a new album of which she'll be releasing two new singles in July.
Along with her acting and music projects Keke also gives back to the community and especially to youth. Last year she was honored with award from the organization "Black Girls Rock" and she gave some inspiring words to girls on following their dreams; check out the video below:

Read More »
You might also like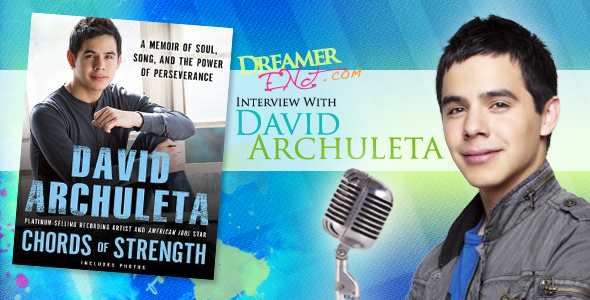 You might know David Archuleta mostly for his soulful, relatable music, but did you know he also wrote an inspirational book that was on the New York Times Bestsellers List? The American Idol runner-up penned Chords of Strength: A Memoir of Soul, Song and the Power of Perseverance where he shares the unexpected journey from the competition to his successful singing career, and how he overcame obstacles like vocal cord paralysis to achieve his dream of being a singer. Dreamer ENT's media partner The Valder Beebe Show spoke to David about the success of the book and of his recent music; read and listen to what he had to say below:
David On Writing His Book

David On Writing His Book Chords of Strength
"It was something that I never thought I'd ever do because I just didn't think I was capable of doing it… But I guess that's kind of the theme of my life and it's actually kind of the things I talk about in the book,
just about going for things that you don't think you're able to do, you don't think you're good enough or ready for yet, but it's about taking the chance when you're given that opportunity and it's amazing what could be the outcome of it.
"It's been a really wonderful experience hearing the positive feedback from people on it and seeing how it's been helpful to people who have read it. That was really the goal of it just being able to help by sharing experiences that I have had and hoping that it will be helpful to people when they read it – I'm really happy with the way it's

turned out."
More About Chords of Strength

"In this personal memoir, David Archuleta reveals insecurities he felt about his voice-before he realized that he loved the way singing made him feel more than he disliked the way he sounded. He opens up about the strength he draws from his unshakable faith and unyielding family. He pays tribute to those who continue to inspire him and through their example help him believe in himself, his talent, and his abilities.

"Intimate and uplifting, Chords of Strength allows a unique glimpse of the man behind the music and offers hope to anyone with a passion and a dream." – Publisher's Description
We love David's song "Something About Love," from his latest album The Other Side of Down. David says the song is more uptempo then what he's been known to do, and that he was excited to get more involved with the writing process of on the album.
David On Making His Recent Album
The Other Side of Down
"I just wanted to show more of me and show more of the things that I believed in… allow people to relate to me more, kind of see my personality more in the songs."
Watch the video for "Something About Love," below:
David's Blog
From David's Website: "Check out this recent video blog from David, all about family, appreciating what you have…and a little bit about exercise. So make sure to give your family some love, and get out there and exercise a bit!"

Read More »
You might also like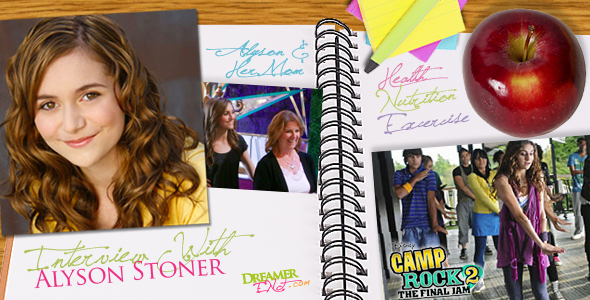 Today's tweens and teens lead busy lives, especially with school starting back up again. Sometimes in the bustle between classes, homework and after school activities they may not take the time to practice healthy habits.
17-year-old Alyson Stoner knows how challenging it can be to stick to a healthy routine, especially with a packed schedule. She began performing in dance at the age of three and at the age of six, she took modeling classes that eventually lead to her dancing and acting career.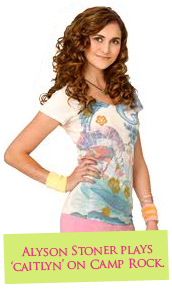 Now, Alyson can be seen in two new movies, "Camp Rock 2: The Final Jam" which premieres September 3rd at 8pm/7c on the Disney Channel, and "Step Up 3D." She is currently on the road with her mother touring with The Jonas Brothers and the cast of "Camp Rock 2," promoting the movie. Alyson has also been working on her music, including the inspiring song "Make History." Her life has been anything but simple; but, with the help of her mother, they are able to keep up great health habits even on the road.
Fresh off the Camp Rock 2 premiere and in the midst of touring, Alyson and her mother LuAnne are spreading the word together of how young people can make healthy and smart choices. In this interview with Dreamer ENT's media partner The Valder Beebe Show, Alyson and her mom discuss how to build strong healthy foundations when leading busy and active lives, from things like fitness, good hygiene, nutrition and proper oral health.
Listen to the full conversation below:
Introduction Music: Flying Forward by Alyson Stoner. Photo Sources: Crest Pro-Health & AlysonStoner.com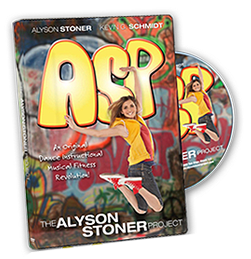 Did You Know?

A few years ago Alyson launched The Alyson Stoner Project, which she called an "Original Dance Instructional Musical Fitness revolution!" Click here to learn more about the project.
MORE ABOUT ALYSON STONER:
Alyson Stoner is a multi-talented young actress, singer and dancer. She is well known as "Sarah" from the Cheaper By The Dozen franchise and was a main character, "Caitlyn," in the Disney Channel hit original movie Camp Rock with the Jonas Brothers. In addition to being a diverse actress, she is also trained in many different styles of dance including ballet, tap and jazz. Her breakout performance was in Missy Elliott's music video Work It followed by two more music videos and many live performances with her.
Read More »
You might also like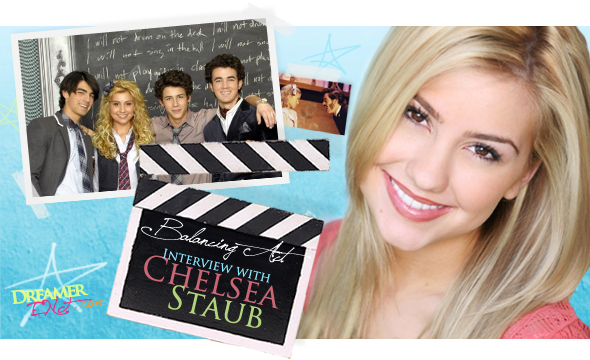 Chelsea Staub is living in her dreams. You'll see her in that real-life reverie each week starring on the hit Disney TV show JONAS L.A. She plays the 'Stella Malone,' friend on-screen and in real life to the Jonas Brothers, and she says she loves being able to express herself through acting. Chelsea started doing theater when she was a little girl and since then has fallen in love with performing.
Recently Dreamer ENT's media partner the Valder Beebe Show chatted with Chelsea about the new season of JONAS L.A. that recently premiered. In the interview Chelsea talks about how she connects with her cast-mates, whether there's a little real-life romance in air, balancing her career while staying grounded, and how the acting bug bit her at a young age.
Listen to the full conversation below:
Below Are Some Highlights from the Interview:
You might also like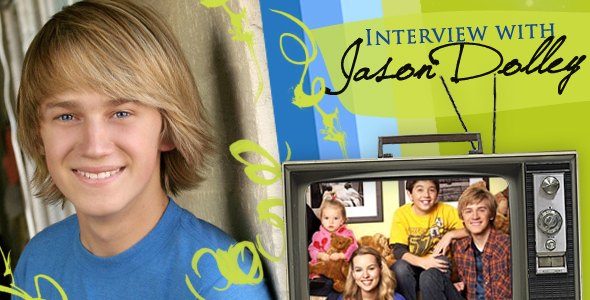 18-year-old Jason Dolley started following his dream of becoming an actor at a young age when he entered a school talent show. By 11-years-old he had made his film debut as the lead role in the award-winning short film "Chasing Daylight". He later went in to star on major shows like Mel Gibson's ABC comedy series "Complete Savages," and made us laugh with his fun-loving character 'Newt Livingston' in Disney Channel's original series "Cory in the House," alongside Kyle Massey and Madison Pettis, as well as a number of other shows and films.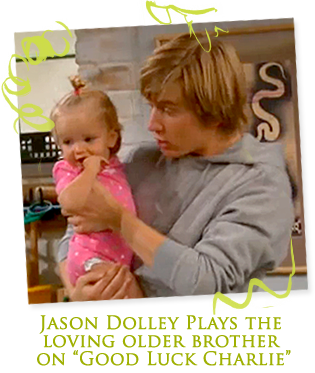 Now Jason is starring as PJ Duncan, older brother to baby Charlie in the Disney Channel Original Series "Good Luck Charlie" that premiered April 4. The series is about the Duncan family, who are still getting used to the "surprise" birth of their fourth child, Charlotte "Charlie" Duncan.
When their parents return to work, they ask their three older children—teenagers Teddy (played by Bridgit Mendler) and PJ (Jason's role), and their ten-year-old brother, Gabe (Bradley Steven Perry)— for help raising their little sister. Teddy starts filming videos giving advice to Charlie about their life at home to give to her when she gets older and when Teddy leaves for college. The show definitely looks funny and like something the whole family would love. (Click here to watch the official preview video for the show and visit the show's official website for more info and fun features.)
Dreamer ENT's media partner the Valder Beebe Show chatted with Jason about his previous role on "Cory in the House" and new role on "Good Luck Charlie," as well as how he stays grounded in his rising career.
Listen in to the full interview below:
Jason on How He Stays Grounded:
You might also like