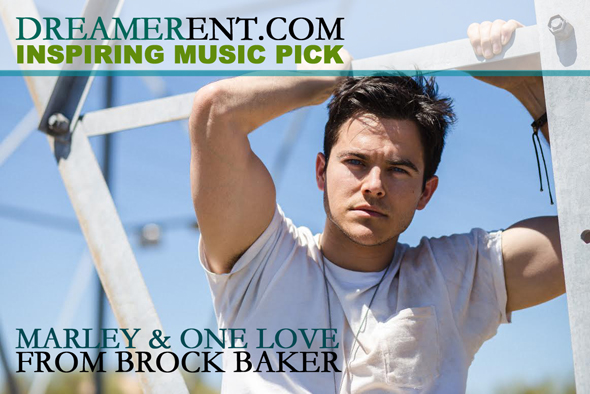 Brock Baker inspires us with his soulful cover of Bob Marley's song "One Love" and his original uplifting song Marley (which both so fit what the world needs today – more love, grace, peace and unity). If you haven't heard Brock's music yet it's time that you do – he's an Arizona-bred, LA-based singer/songwriter/YouTuber. After a great run on Glee as one of the Dalton Academy Warblers, Brock continues his musical journey with covers and originals that highlight his unique, sincere voice and passion for his craft.

Be sure to also check out Brock's duet of "Back to Church" with his friend Alyson Stoner, and his cover of Drake's One Dance with Molly Kate Kestner – love all of their voices and how they mesh together:
"Back To Church" Cover Duet by Brock Baker & Alyson Stoner
More About Brock Baker:


Connect with Brock on: Facebook – Instagram – Twitter – YouTube

Brock Baker started his musical journey at the age of four performing in front of thousands and participating in singing competitions. In 2007, he received his first musical award at GMAs for "Best Vocals." After being a Warbler on the hit television show GLEE he has had the opportunity of singing with and opening for artists such as Katy Perry, Jordin Sparks, The Eagles, Michael W. Smith, Natalie Grant, Tye Tribett and the list goes on. He is a singer, writer, musician, and actor, but most of all he is an entertainer. His debut EP "Young 'n' Stupid" was featured on the Homepage of iTunes during release week and continues to gain momentum daily. From the man to the music, Brock's connection with people brings them together.
You might also like