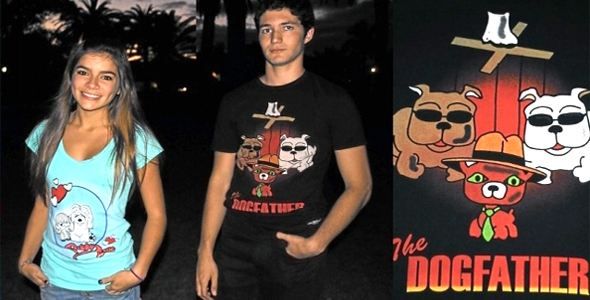 NFTE, (the awesome organization that helped me start my own business as a teen) recently announced the winner of the second annual NFTE Elevator Pitch Challenge: Jonathan O. of Miami, Florida.
The 2011 Challenge is presented by NFTE and MasterCard Worldwide and featured 30 remarkable young people with innovative ideas, intense online campaigning, and more than 80,000 votes. We'll be featuring more of the participants later on Dreamer ENT, stay tuned!
Jonathan's business idea, Love Puppy Love, provides fun-loving, unique, dog-themed T-shirts for the world to enjoy, while raising awareness about the plight of dogs in desperate need of love and support. NFTE, in coordination with our sponsors E*TRADE, MasterCard, and Southwest Airlines, will provide Jonathan with $2,500 to make Love Puppy Love a reality. The two runners up, Khaled K. and Nguon T., will each receive $500 towards their businesses.
Congratulations to Jonathan and all of the young entrepreneurs for creating unique business concepts and taking the initiative to participate in the Elevator Pitch Challenge!
Watch Jonathan's winning pitch now:
You might also like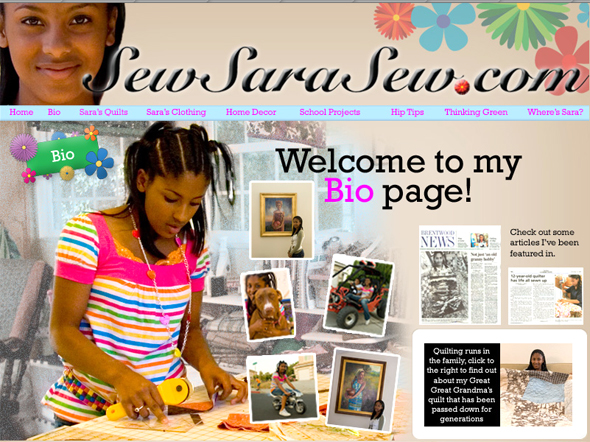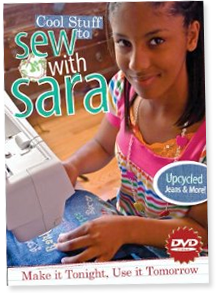 On SewSaraSew.com Sara, a teen seamstress, teaches other teens how to sew their own creations, from dresses to quilts. Her projects and site are so intricate and impressive, with cute details and concepts.
Sara's been able to do various apperances and speaking engagements to inspire other teens and one of her art quilts "By His Blood" was featured at the Rev. Jesse Jackson 68th Birthday Gala. Wow, I'm really inspired by this young entrepreneur! Visit SewSaraSew.com where you can order her instruction DVDs or her book to learn how to make your own sewn fashions – you might even want to start your own business by selling them to friends.
"SewSaraSew.com is the place for kids and teens to get fun ideas, share your work, and learn how to make something without spending your whole allowance! There is no limit to what we can make, and there are no such things as mistakes! A wrong turn on a project could open up a whole new opportunity! I am all about being green, using recycled materials in my projects, and not letting scraps go to waste. If you think GREEN, you can make GREEN! The best part is that you can do this too! Let's get behind our machines and make something FUN!"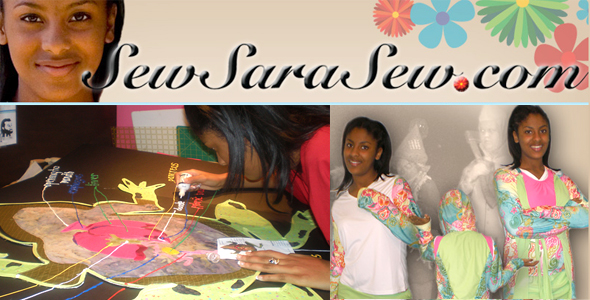 Above: Sara's Fabric Frog Dissection Project and Colorful Hooded Ensemble

Watch the videos below where Sara talks about how she got started sewing and an episode of Biz Kids where she sews a dress for a friend:
Below Sara introduces her book and shows clips of a fashion show where some of her students show off the projects they made:
You might also like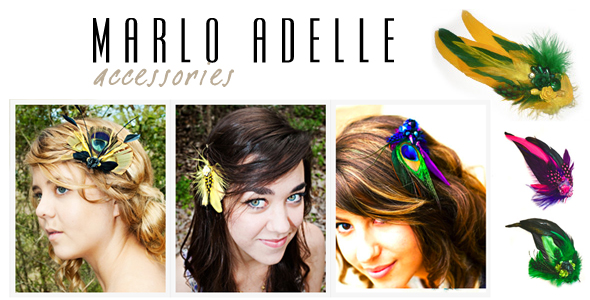 Still looking creative gift ideas, and want to support young entrepreneurs while shopping? Check out Marlo Adelle Hair Accessories a handmade and fashionable feathered hairclip line created by a teen business owner: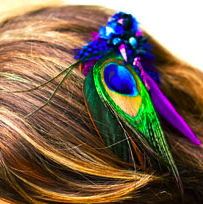 The Story Behind Marlo Adelle Hair Accessories

Marlo started making hair accessories to go with her outfits at age 14. Her friends requested personalized hair clips for themselves. Her mother helped her sew them and eventually they introduced them to local businesses in downtown Austin.

As demand increased, Marlo turned to Craig's List for potential hairclip helpers. The helpers came to the family home, were trained and Marlo provided them patterns to trace. By the third year, Marlo was selling in 12 boutiques in Austin and in California, as well as online. In 2008 Whole Foods Market ordered her new line of romanticized feather hairclips with a vintage flare.



Giving Back

As Marlo continued to grow her business, she was involved in giving back to her community through volunteer efforts in PALS and teaching art at Laguna Gloria Art School. She traveled to the Dominican Republic to teach art to impoverished children. With three employees, Marlo plans to continue her business while in college and to expand the online business.
You can find out more about the business and how to order at www.marloadelle.com
You might also like
Young Entrepreneur Gift Guide
For the next few weeks on Dreamer ENT we'll be featuring products by young entrepreneurs that would make great gift ideas. Check out the first installment below: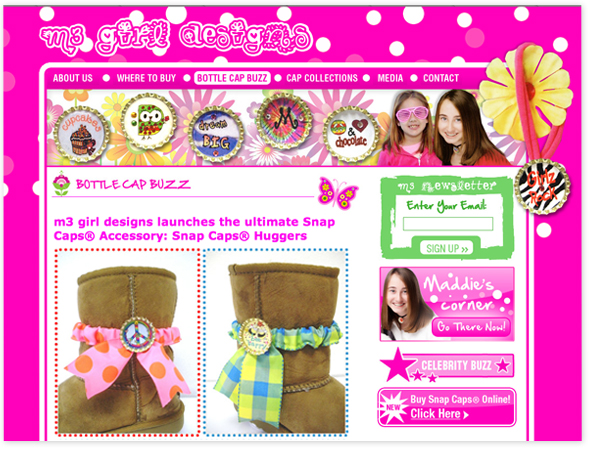 M3 Girl Designs – Bottle Cap Necklaces & Accessories
Pop on these creative bottle cap jewelry pieces and decorations created by a 13-year-old dreamer & entrepreneur…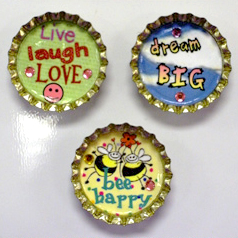 Looking for a cute and creative gift idea? You and your friends might like the colorful magnetic bottle-cap jewelry from M3 Girl Designs. These colorful creations were created by a young entrepreneur as a personal fashion statement and are now extremely popular:
When 10 year old Maddie Bradshaw had a desire to decorate her locker with something creative, Snap Caps® bottle cap necklaces were born and now are a "must have" accessory for tween girls.

With $300 of her own money and a unique idea, Maddie's SNAP CAPS® have turned M3 Girl Designs into a national brand, selling 50,000 necklaces per month in less than two year's time.

Education is important to Maddie, and in addition to her SNAP CAPS® designs, she is also currently working on her first book. It is an inspirational compilation of stories, inventive business ideas and marketing tools for kids with entrepreneurial spirit and big imagination.
Visit www.m3girldesigns.com to find out how to order and to learn more about the story and fun behind M3 Girl Designs!
You might also like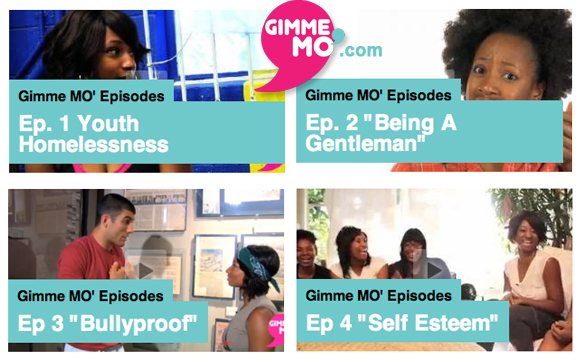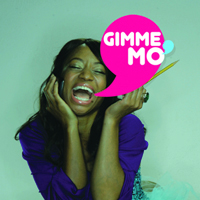 Have you been keeping up with the Gimme MO' MO'vement? Monique Coleman has been challenging young people to change the way they look at the world with her new talk show for youth and we love how she is bringing awareness to important issues.
The latest episode of Gimme MO' is called "Think Before You Ink" and is about encouraging teens to consider their future before getting tatoos. On past episodes Monique has also covered topics from Self-Esteem and Bullying, to Teen Homelessness and Being a Gentleman.
Every episode is fresh and full of great advice and inspiration. Visit GimmeMo.com to catch up with all of the episodes and great articles and content, tell a friend, and be sure to leave a comment on the Gimme MO' site to lend your voice to the MO'vement!
Monique is such an amazing influence, showing how important it is to give back in ways that can enrich the lives of others. She is also on the Gimme MO' tour, visiting schools and spreading the inspirational message that youth can make a difference, and giving them a platform to be heard. For Veteran's Day she gave her time to Mission Serve and USO, welcoming home troops and serving meals. Check out a shout out video she did below:
We love that Monique is passionate not only about youth, but all of her about her supporters. Check out the shout-out video she gave to Dreamer ENT below. We're honored to help spread the word! To all of our Dreamer ENT readers – be sure to join MO'vement!
You might also like