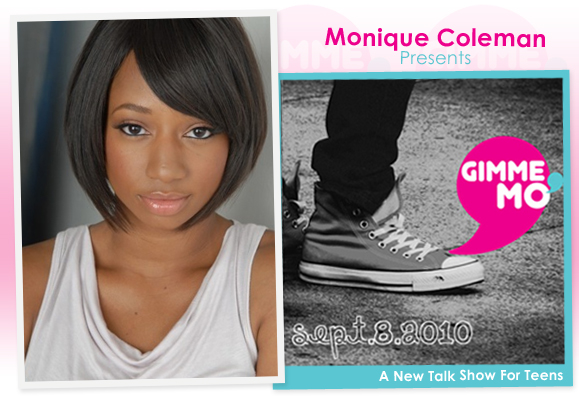 Are you ready for MO'? Monique Coleman is preparing to launch her own online talk show for teens called Gimme MO', which premieres this fall. The show is aimed at inspiring young people and based on the clips Monique has posted so far it seems like it will be very upbeat and will touch on relatable issues:
Gimme MO' Show Description

GimmeMo' is an online talk show launching in the fall of 2010. Actress Monique Coleman is hosting the show with the intention of empowering today's youth. She will be facilitating safe conversation about real issues, bringing awareness to organizations that are serving teens, & conducting celebrity interviews. Each webisode centers around one compelling topic. Monique recognizes that the youth are constantly on the web, so she will meet them where they are and provide them with much needed positive content.
Check out a Gimme MO' Preview Video Below
Monique is also busy working on a book called "From Ramen Noodles to the Red Carpet: A Guide to Becoming Who You Are Without Forgetting Who You Were." She was quoted on Just Jared Jr. saying the book is "primarily for actors, but speaks to anyone who has ever felt alone or in need of support in a difficult career. Drawing from personal experience, I offer advice and address how to maintain a positive attitude and believe in your self when others may not."
Stay connected with Monique on Twitter, Facebook, on her official website and on her Tumblr.
Below is Monique's personal statement for the Gimme Mo' Talk Show; we love her passion and vision: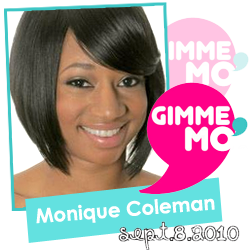 Monique's Gimme MO' Personal Statement

I believe that today's youth want MOre…
I believe they deserve MOre….
Which is why I'm starting a MOvement!
It's called the GimmeMo' Movement…or simply GimmeMo'

MOre What?

MOre Information, MOre Support, MOre Knowledge, MOre Respect, MOre Awareness, MOre Challenges, and MOre Rewards.
The objective is to empower today's youth by encouraging self awareness.

The youth are lazy because adults are lazy. We stand around waiting for someone else to make the first move or say the first word. This needs to change. Teens need to learn how to think outside the box, make informed decisions, question everything, and strive to define and reach their greatest potential.


I don't want to impose anything upon them, rather inspire what is within them. Fear doesn't work, it just creates a society of manipulators. In the age of Facebook, You Tube, Skype, and Twitter we can no longer rely on isolation or old fashioned censorship. We can't pretend that rapid change isn't happening. All we can do is grow with it.

I want to teach the youth how to be healthy, speak the truth, and take conscious steps to save and conserve the environment. I'll encourage them to communicate effectively, but mostly I'll give them support by listening intently to what they need.

I don't believe we can control them nor should we try. We should instead nurture the youth as we would a garden. We must plant healthy seeds, water them, love them, and let them bloom.

I want to inspire teens who don't want to be Oprah Winfrey, Zac Efron, Barack Obama, or Monique Coleman…..rather teens who want to be themselves, their best selves, and achieve things we may not even be able to conceive of…



Continue reading Monique's mission statement on her Gimme MO' Tumblr blog:
You might also like