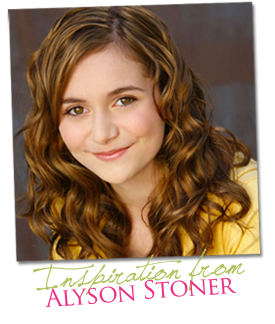 Alyson Stoner, the talented actress, dancer and singer who you've seen in music videos, Disney movies like Camp Rock and shows like The Suite Life of Zack and Cody, shared some inspiration for young people on her blog a few weeks ago.
Here are some snippets from the post:
"It pains my heart to see my generation lying around, using their teen years as an excusable "transition-phase" so they can avoid taking on responsibilities before it's necessary. This period is intended to be the launching pad for our futures!…"

"…Invest your time and money in something purposeful. Everyone has a gift, along with potential to use it. And it's unfair to the millions of lives you were created to touch if you don't follow your calling. Please, friends, I encourage you to look at yourself in the mirror and ask, "Who do I really want to be today? tomorrow? in 10 years? What small steps and giant leaps do I need to take to get there?"

…Dare to dream. We have an imagination for a reason. Write down your wildest dreams and then create an action plan to make it happen. Stay focused on improving your character and skills (instead of nit-packing others' flaws) so you'll be prepared to fly when the opportunity arises. You were created to do amazing things, and I'm not going to let you fail. You are strong. You are valued. You are loved, and you are gifted. Do not waste your life…"
That's some great and powerful advice to take into the New Year! You can read the full blog post on her official website by clicking here. You'll be able to see Alyson doing what she does best when Camp Rock 2 premieres on the Disney Channel in the summer of 2010.
You might also like