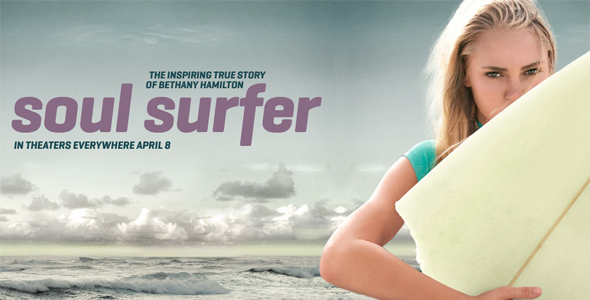 If you're looking for a great and impact-full movie to see with friends, be sure to go catch Soul Surfer which hit theaters recently. This inspiring film is based on the true story of Bethany Hamilton who lost her left arm in a shark attack at 13 years old but overcame the tragedy and went on to become one of the most amazing professional surfers in the world. With faith, love and support from her family and friends Bethany pursued her dream and is inspiring people around the world to overcome obstacles in their lives as well.
The movie stars AnnaSophia Robb as Bethany Hamilton, Dennis Quaid and Helen Hunt as Bethany's parents and singer Carrie Underwood. Visit the Soul Surfer movie site to find out more on where you can watch this inspiring movie! You can also visit Bethany's Official Website to learn more about her story and read her blog: www.bethanyhamilton.com
Watch the Soul Surfer Trailer Below: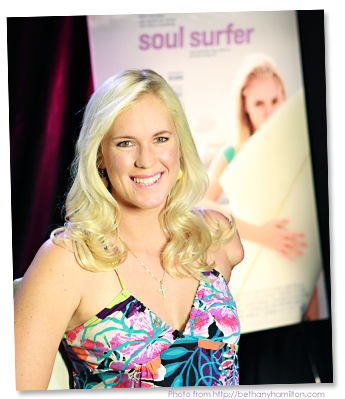 More About the Real Bethany Hamilton
Bethany has become a source of inspiration to millions through her story of determination, faith and hope. Born into a family of surfers on February 8, 1990, Bethany jumped on the board at a young age. Bethany entered her first surf competition—winning both the short and long board divisions at age eight.

On Halloween morning 2003, Bethany was attacked by a 14-foot tiger shark, which bit off her left arm and seemed to end her career as a rising surf star. After losing more than 60% of her blood and undergoing several surgeries, Bethany began her recovery with an unbelievably positive attitude. Miraculously, just one month after the attack, Bethany returned to the water. Two months later, Bethany placed fifth in the Open Women's division surf competition and just over a year after the attack she won her first National Title. In 2007, Bethany realized her dream and turned pro. Bethany has since participated in numerous Association of Surfing Professionals and World Tour Events with her major highlight being a second place finish in the ASP 2009 World Junior Championships. "It has been an incredible journey for me and now, I'm just so excited to share it!" says Bethany.

"Bethany's story is so powerful," says Soul Surfer Director Sean McNamara. "Most people would have given up after what happened to her, but not only did she make an amazing return to surfing, she excelled at it, and has turned her life into an inspiration for people all around the world. She is someone you look at and think, 'If she can do all the incredible things she's done, I can set the world on fire, too.'" says Sean.
You might also like