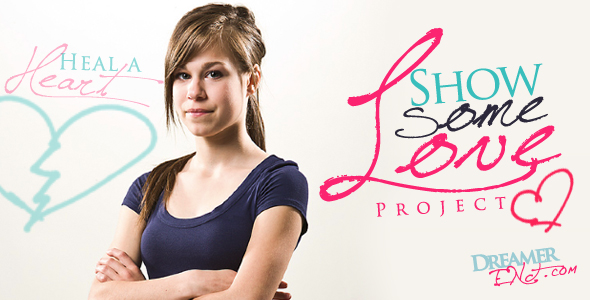 This February we launched the Show Some Love Project, to encourage you to reach out to those around you who may be hurting – your care and love and heal a heart and save a life…
You see her in the corner sitting quietly in the back of the classroom as everyone chatters away, she's staring down at her books to pretend she's occupied when really she just wants it to swallow her up; she just wants to disappear. Some might take her expressionless, tense face as a little snooty a little off-putting, but really she is scared. She tries not to draw attention but even when silent somehow she draws in mean girls like flies.
At lunch time she doesn't want to face them, and their jeering so she heads to the empty stairwell to eat her sandwich, alone.
Sometimes she locks herself in a bathroom stall, her forehead against the cold wall, tears streaming down her face. She doesn't dare look up at the scribbling on the painted brick for fear that her name could be scrawled there.
She might be shy, might be new, a little lost and awkward maybe but she definitely needs a friend. She might be at your school, in your class, on your bus ride home.
If you got to know her you'd find that she likes to laugh, loves that show you watch, you'd see there's more to her then meets the eye. If you would only meet her eyes, smile and introduce yourself you might be surprised. If only…
But for now she sits alone. Her face may not say it but inside she's longing for someone, someone to notice, wishing someone would take the time to see her, to really see her, say hi and show her some love.
How do I know? Because she was once me.
Show some love today – you never know what effect your words and kindness can have on someone who is hurting.
– Julene, Editor of Dreamer ENT.com
You might also like