Congratulations to 15-year-old Adele Taylor, Founder/CEO of Adele's Literacy Library (A.L.L.) a young dreamer and doer who we interviewed a few months back. Adele recently received an award from the organization Black Girls Rock, Inc. for Making A Difference in the community through her A.L.L. project promoting literacy. You can watch Adele being honored on November 7, 2010, BET 8pm Eastern 7 Central when BET will air its inaugural Black Girls Rock Awards.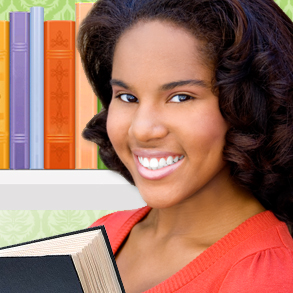 "I am so thrilled and completely honored! I could not believe it when BET called to tell me that they wanted to recognize me for the work that I do with literacy!" Adele exclaims about finding out about the award.

"I met KeKe Palmer, Raven Symone, DJ Beverly Bond and even Ms. Debi Lee, Ms. Ruby Dee and so many more stars or should I say "Rockin Ladies!" giggled Adele. "This show will not only be a true testament to African American women, but to ALL women regardless of race".
Read A.L.L. about the honor Adele is receiving below. Congratulations Adele, you truly do rock!!!
On November 7, 2010 BET will air its inaugural Black Girls Rock Awards celebrating the brilliance of women. New Jersey native, Adele Taylor, Teen Founder/CEO of Adele's Literacy Library® is one of the young community activist recipients that was selected to be highlighted. The event will be a historic and monumental show highlighting the accomplishments of exceptional women of color who have made outstanding contributions in their careers, and who stand as inspirational and positive role models in their communities.

Adele is one of five young ladies that will be recognized as a girl who is Making A Difference in the community. Adele is the Founder and CEO of Adele's Literacy Library® which she founded in 2008, at the age of 13 because of her passion for reading. Since A.L.L's inception, Adele's Literacy Library® has successfully given away thousands of brand new books and bookmarks to schools, libraries and various organizations. Adele's goals are to donate millions of brand new books and bookmarks to youth, elderly, schools, libraries and charitable organizations, and to "make a difference" in the lives of others through a book. She plans to open A.L.L. centers globally and to offer scholarships to high school graduates who want to pursue their educational dreams.

The sociA.L.L.y conscious teen also hosts "Storytelling with Adele," visiting schools and reading to classrooms.

Taylor, now 15, is a sophomore at Williamstown High School and has been accepted into the Business and Finance Academy at her school. She is the NAACP ACT-SO gold medal winner for the state of New Jersey in the Business Category and the silver medalist in the nation
respectively. Adele's school activities are Student Senate, Italian American Club and DECA. A few of Adele's hobbies include dancing, roller-blading, rock climbing and shopping. Adele lives with her mother, father and her two younger siblings.

Adele's Literacy Library® supports itself by hosting book drives, fundraisers, and receiving donations. For more information on Adele's Literacy Library® please visit www.AdelesLiteracyLibrary.org.
You might also like