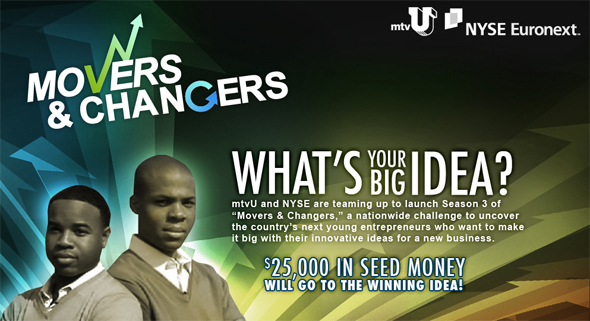 Have a BIG idea and want to win $50,000 to start your business? MTVU is looking for Movers and Changers who want to make a difference through entrepreneurship:
Successful, world-known companies like Fed Ex, Nike and Under Armour all started from young entrepreneurs who only had minimal funds and resources, but gained success with their vision, innovation and determination. And today, companies like Foursquare and Gilt Group, are following that same model of success. If YOU'RE a young entrepreneur looking to start a company, mtvU and the New York Stock Exchange want to help you get started.

We're looking for 16-28 year old college students to develop and produce a compelling business proposal. Ideas must be original, feasible, scalable, and practical.

The top 5 finalist business plans will be posted online for voting and the winning team will be flown to New York City in November to attend Global Entrepreneurship Week where they will ring the bell at the New York Stock Exchange and attend the NYSE Movers and Changers Forum. The winner will also receive $25,000 in seed money to help his or her company start off on the right foot. The deadline for entries is October 3, 2011.

Visit www.moversandchangers.com to apply and to learn more.
You might also like