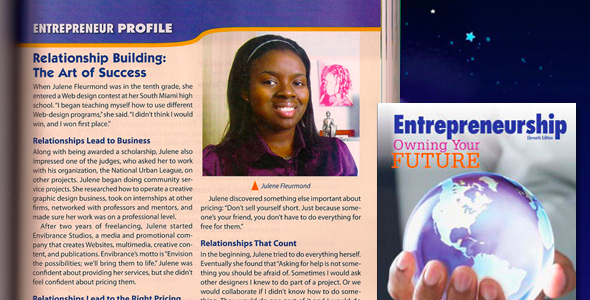 Dreamer ENT's founder Julene is featured in the upcoming entrepreneurship education textbook from the Network Foundation for Teaching Entrepreneurship, or NFTE. The feature is about cultivating relationships to help your business succeed. The textbook entitled Entrepreneurship: Owning Your Future is used in the NFTE curriculum to teach high school students the art of starting and running a business. NFTE is the program that enabled Julene to start her own marketing business when she herself was in high school.

Read a portion of the feature below:
Relationship Building: The Art of Success
When Julene Fleurmond was in the tenth grade, she entered a Web design contest at her South Miami high school. "I began teaching myself how to use different Web-design programs," she said. "I didn't think I would win, and I won first place."

Relationships Lead to Business
Along with being awarded a scholarship, Julene also impressed one of the judges, who asked her to work with his organization, the National Urban League, on other projects. Julene began doing community service projects. She researched how to operate a creative graphic design business, took on internships at other firms, networked with professors and mentors, and made sure her work was on a professional level.

After two years of freelancing, Julene started Envibrance Studios, a media and promotional company that creates Websites, multimedia, creative content, and publications. Envibrance's motto is "Envision the possibilities; we'll bring them to life." Julene was confident about providing her services, but she didn't feel confident about pricing them…

Relationships That Count
In the beginning, Julene tried to do everything herself. Eventually she found that "Asking for help is not some thing you should be afraid of. Sometimes I would ask other designers I knew to do part of a project. Or we would collaborate if I didn't know how to do something. They would do one part of it and I would do the other."

Julene also learned how to take on projects that she's passionate about. "My genre now is mostly youth-oriented organizations or organizations that cater to youths. Having a genre or an audience that I'm very passionate about really helps me to be more passionate about my work."

Her advice to other entrepreneurs is to make sure they're passionate about whatever they do, even if others say it won't be profitable.

"I think that if you pursue what you're truly passionate about and what you were made to do, financial benefits and everything else will follow naturally."
More About the Textbook Entrepreneurship: Owning Your Future
Written by Steve Mariotti, NFTE Founder
The 11th edition of NFTE's text book on entrepreneurship is a student-friendly, comprehensive guide to developing a business plan.
Focuses on critical basic business skills including business communications, negotiating, business ethics, social responsibility, time management, and goal setting.
Examples of three types of businesses – manufacturing, retailing, and service – run throughout the text.
Integrates workplace-relevant activities to meet academic standards.
Features profiles of 22 young entrepreneurs.
To find out more and to order visit the NFTE website at http://nfte.com/news/entrepreneurship.asp.
You might also like