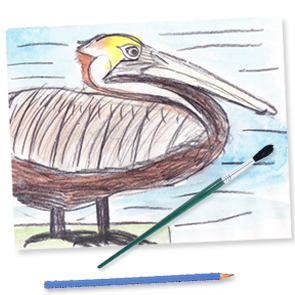 Here's an inspiring story of how one girl decided to make a difference instead of just sitting by and watching…
After hearing about the oil spill in the Gulf that is affecting many people and animals there 11-year-old Olivia Bouler was moved and decided to take action. The Gulf Coast was a familiar place to her, where she spent many vacations with her family who live in Louisiana and Alabama.
Olivia, who describes herself as an "aspiring ornithologist, artist, and saxophone player," decided to put her artistic skills to work, creating and selling original artworks of birds, because she knew birds would be affected and could likely suffer as a result of the spill.
She contacted the National Audubon Society to ask for help, in hopes of giving her illustrations to raise money for clean up costs. The response has been enormous and, Olivia has raised thousands and has over 27,000 members on her Facebook page: Save the Gulf: Olivia's Bird Illustrations. Her story has appeared in several news outlets like BBC radio, AOL News, Newsday, Italian news, and Belgian news. Her work is now also featured as an AOL Artist, with AOL giving The Audubon Society $25,000 in honor of Olivia's efforts.
Watch Olivia in the Video Below About Her Project
What an amazing effort; we love Oliva's artwork and commend her for the work she's doing! Want to donate or contribute to her efforts? Visit http://www.aolartists.com/projects/help-the-gulf to donate and visit Save the Gulf: Olivia's Bird Illustrations to find out how you can get a print of her work for your donation.
Read more about Olivia in this feature from AOL's Good News Now and read the letter she wrote here.
You might also like